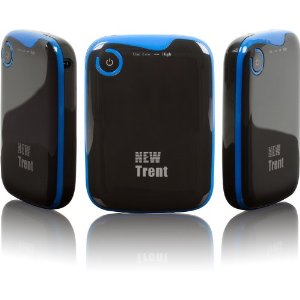 About a month ago I purchased the New Trent charger for smartphones. As you may remember if you follow my blog, I previously posted about a battery charger. The problem was it completely drained the charger after charging my iPhone.  The beauty of my new charger is that it has much more charge time to it. I can fully charge my iPhone three or four times before needing to charge the external battery charger. That is great not only for every day use, but for travel.This charger is $40, and works with Apple iPhone 4S 4 3Gs 3G (AT&T and verizon), iPod Touch (1G 2G 3G 4G 5G), Motorola Droid, HTC Android EVO, Blackberry, Samsung EPIC, Samsung Galaxy Tablet, Samsung Galaxy S and much more. Provides over 25 hours of charge time.
New Trent also carries a charger for $77 that will provide 50 hours of charge for the smartphone, and 17 hours of charge for the iPad. While the first charger works great for me because I don't have an iPad (yet), it makes sense to purchase the more expensive one if you have both. I tried my charger on my friend's iPad and it didn't work.
This is a great charger and I am very pleased with my purchase. Let me know your thoughts.