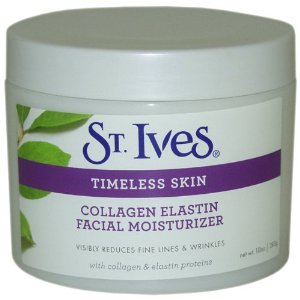 Another find from Dr. Oz. See the line on the jar? You know, the one that says, "visibly reduces fine lines and wrinkles"? I swear I buy almost everything that says that. I do not buy everything Dr. Oz recommends, I promise, because if I did I would be buying stuff daily. And I did not win the big lottery this week, so that's not going to happen.
St. Ives is a drugstore line that is very inexpensive. I have used this at night, and sometimes during the day when I am not going to put on makeup. It happens. I have searched the website, and my jar, and see nothing about SPF protection, and I am all about SPF protection, so I don't wear it if I know I am going out. That's just me. That being said, I love the price (less than $5 for a ten ounce jar) and smell.  It is lightweight and it leaves my skin feeling soft without being sticky or gloppy. I switch it up with moisturizers, so if you are like me, this is a good one to have. If you only use one, I would not recommend it simply because it doesn't have the SPF protection, and I want to take care of you!
What is your favorite moisturizer? Do you go for expensive brands or drugstore brands? Leave me your thoughts in the comment section.