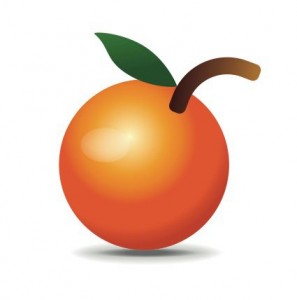 If you want to diet, be healthier, or just make better choices, Fooducate is the app for you. I have been using this app for over six months now, and it is a really smart app to take with you to the grocery store. You can scan a food item you want to buy, and it will grade it immediately, and give you healthier choices to make regarding the same food. I also use it to scan my pantry before going to the store, then I already know what substitutes I want to try to get rid of all the bad choices in the pantry, and believe me, there have been many a bad choice.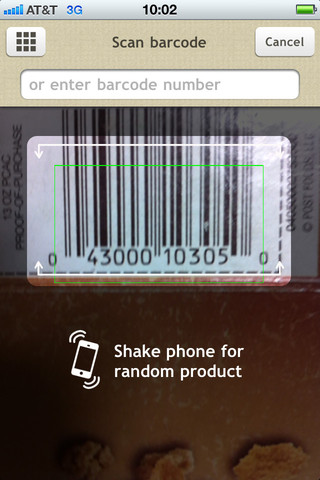 On the Fooducate main page, it fills your message box with coupons and articles on living healthy.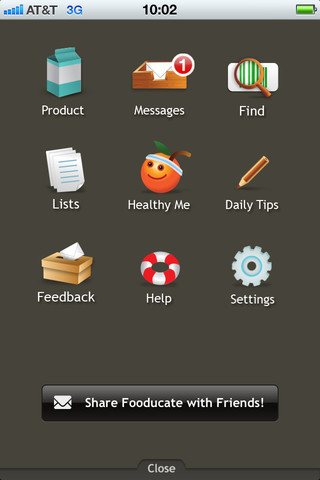 From Fooducate website:
Are you confused by ingredient lists, nutrition labels, health claims and marketing hype? Fooducate is here to help. We are a team of parents, dietitians, and techies. We realize that at the supermarket you have very little time to analyze food labels and extract the information that is important to you. We'd like to help you make better choices for you and your family.

Get the Fooducate mobile application and use it to:

Automatically scan a product barcode
See product highlights (both good & bad)
Compare products
Select better alternatives
Dig deeper and learn more about food and nutrition

Features:

Created by dietitians and concerned parents
Uses your mobile's camera to effortlessly scan UPC barcode
Over 200,000 unique products and growing daily
Simplified information helps you make better choices
Works on iPhone, iPod touch, iPad and Android OS version 2.2 and up

"… Fooducate is like taking your own personal dietitian to the supermarket…"

Fooducate analyzes information found in each product's nutrition panel and ingredient list.

You get to see the stuff manufacturers don't want you to notice, such as

excessive sugar
tricky trans fats
additives and preservatives
high fructose corn syrup
controversial food colorings
confusing serving sizes
and more…

Just pick up a product from the shelf, scan it, and let Fooducate do the rest.

Fooducate is NOT funded or influenced by food manufacturers, supplement companies, diets, or any sort of magic pill.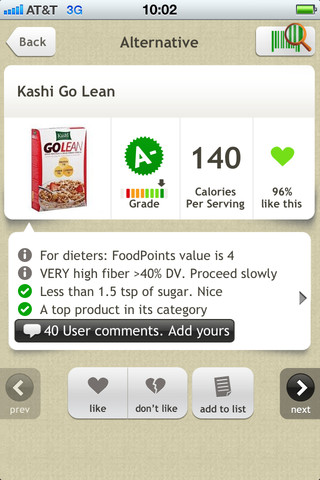 Give this app a try. I think you will be as surprised as I was about how many choices of food products I thought would be graded an "A" or "B" by Fooducate, only to find out they were graded a "C" or even the dreaded "D". Even if you are not dieting, you want to make the healthiest choices for you and your family, right?
Fooducate is a free app. There is another version, "Fooducate Plus". It appears the only difference is that you can add the choices to a built in shopping list. If there are other advantages to the paid one, please let me know in the comment section.