It's already getting pretty hot around here. I like light easy recipes, don't you? Well, truth be told, I like someone else to do the cooking. Or takeout. It doesn't matter. But if I have to throw something together, I like it to be simple and easy, and light. This is a great recipe from Tasty Kitchen that is delish!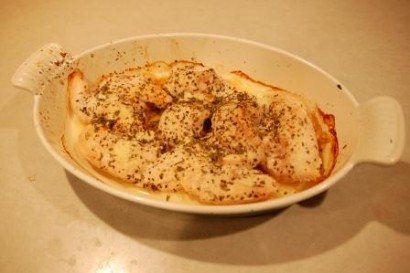 1-½ pound Skinless, Boneless Chicken Breast Tenders
1-½ whole Lemons, Juiced
2 cloves Chopped Garlic
½ teaspoons Dried Basil
½ teaspoons Dried Parsley
⅛ teaspoons Cayenne Pepper (more To Taste)
1 pinch Kosher Salt
¼ cups Grated Parmesan Cheese
Place the chicken breasts in a casserole dish. Cover with the lemon juice. Put in enough juice to let the chicken really sit in it. Add the garlic and tuck it in between and among the chicken breasts.
Mix the herbs and spices together and sprinkle over the chicken. Sprinkle with the cheese. Bake at 350ºF for 35 minutes or until done.