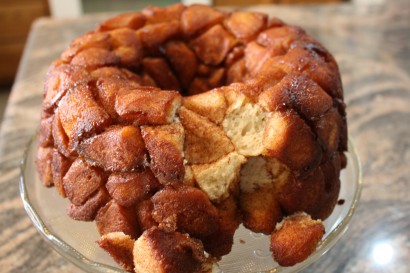 I really thought I had posted this recipe before, because it is one of my family favorites. I started making monkey bread for my son when he was probably two or three years old. At that time my mother was still alive, a great cook, and most holiday cooking was prepared by her. I miss those days. I wanted a little tradition between my son and I on Christmas morning, and that is how Monkey Bread started for us. Now I make it for every holiday, or just when he happens to be over in the morning.
Monkey Bread
1/2 to 1 cup of chopped pecans (I use pecan pieces because they are finer)
1/2 cup sugar
2 tablespoons cinnamon (I always just eyeball this because I want a more cinnamon taste)
3 cans (10 ounce each) buttermilk biscuits, cut into quarters
1 cup brown sugar
1/2 cup butter (1 stick) melted
Grease bundt pan and sprinkle the pecans evenly in the bottom.
Mix the sugar and cinnamon together. Dip the biscuits into the sugar mixture and layer into bundt pan. (You can put the sugar mixture into a ziploc bag and then just add the biscuits and shake. I really like to roll the biscuits into the sugar mixture one by one because I think it coats them better).
Combine brown sugar and melted butter and pour over the top
Bake at 350 degrees for 30-40 minutes
Cool ten minutes and invert onto plate.
Paula Deen has a different version of monkey bread she calls gorilla bread. She sticks a little glob on cream cheese into each biscuit. It is MUCH richer. Almost too rich for me. But you might want to try that version also. I'm sure there are several versions of monkey bread out there.  It makes a great breakfast treat.
I love traditions. Please share your family traditions with me in the comments section.