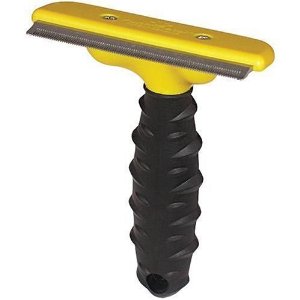 My little granddog came to visit me this past weekend. When he comes, he first has to sit outside and let Grandma use the FURminator
 on him. Usually my son has Ranger groomed before bringing him over for a weekend visit. This time he was busy, what with his full time job, and recently getting his Master's . . .But I digress. As I often do. We filled up an entire grocery bag with Ranger's dog hair. Better the grocery bag than my house. The FURminator is a miracle worker! I love my little granddog, but I do not love his hair all over my furniture, and me.
The design of the edge of the FURminator allows the tool to push through the topcoat to easily and gently remove the undercoat and loose hair without cutting or damaging the dog's delicate skin. It works on cats and dogs that shed. I promise it doesn't hurt them one bit. I actually think Ranger enjoys getting all that hair off of him. Plus, Grandma always has a little treat for him. And lots of petting as long as I'm not stirring up his undercoat!