No, no, no, this is not one of those rate a girl/boy as to whether they are hot or not. Get your minds out of the gutter, people!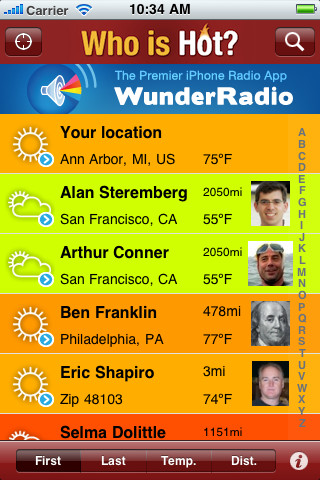 Who is Hot? is an app that allows you to see all of your contacts' current weather conditions. So, if you are like me living in hell, I mean Texas, you can instantly argue with your friends that you are in fact hotter than they are.
From iTunes:
 Instantly check the weather for all contacts on your iPhone or iPod Touch

– Shows detailed local weather conditions and forecasts including animated radar

– Automatically syncs with your contacts list providing a fun and easy way to track weather across the country.

– Each entry is color-coded according to temperature and links to a detailed local weather report from wunderground.com

– Using GPS, your current location's weather conditions are always listed first, so the application also acts as a digital thermometer.

– The distance between your current location and each of your contacts is also displayed

– Step off a plane anywhere in the world and instantly check the local weather conditions or see who your nearest contacts are. Alternatively, you can check on the weather for your friends and family back home.

– Sort your contacts by first name, last name, distance and temperature.
For some reason when I check my friends' weather in Alaska or Michigan, I instantly feel like moving.
Oh, and it's a free app.