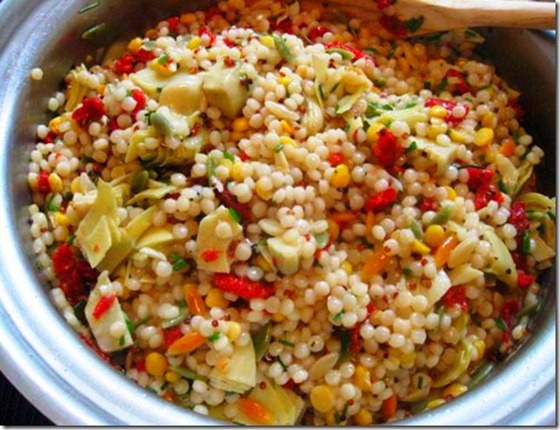 One of my favorite blogs is Danicasdaily.com. She is young and cute, lives in California, and eats very healthy. She is an inspiration, and is always posting great recipes! And, now that Trader Joe's has finally opened in Texas, I could not wait to try this recipe!
2 cups Vegetable Broth
1 1/4 cups Harvest Grain Blend (Trader Joe's or Make Your Own!)
7 oz marinated artichokes, roughly chopped
2/3 cup sun dried tomatoes, roughly chopped
1/4 cup white balsamic vinegar
1/2 cup chives, minced
Big Dashes of Trader Joe's21 Spice Salute, optional
Freshly Ground Black Pepper to taste
In a medium soup pan bring broth to a boil. Reduce heat and add Harvest Grain Blend. Boil for 10 minutes or until the sauce is almost absorbed. The mixture may stick to the pan slightly and that is ok.
While the Harvest Grains Boil, prepare the ingredients above. Remove the cooked Harvest Grains from the heat and toss with the remaining ingredients (artichokes through black pepper).
May be serve warm or chilled.
Weight Watchers 4 Points Plus for 1/2 cup.