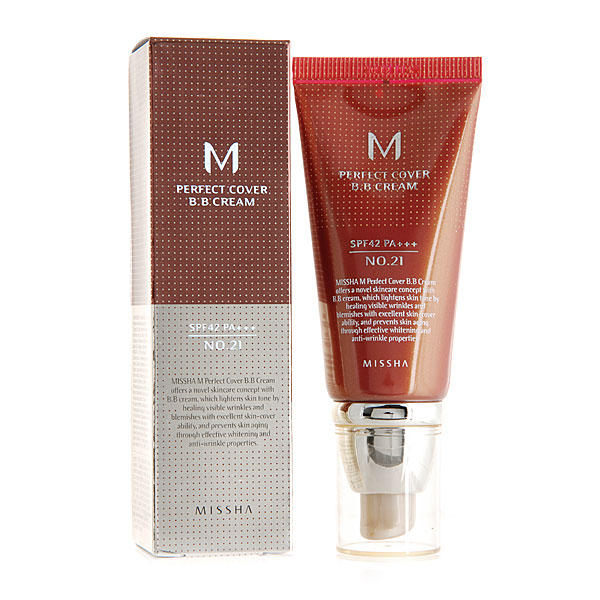 Have you heard of B.B. Cream? It is all the rage right now. It's a one step foundation/moisturizer/primer/skin care product. So, instead of starting off with the serum, then the moisturizer, then the primer, then the foundation, you need only use the B.B. Cream. "B.B." stands for "beauty balm" or "blemish balm". I would compare it to a tinted moisturizer, except I think the coverage is much better, and it has skin care ingredients built in. Most of these products are from Asia, although some name brands in the United States have now hopped on the bandwagon and come out with their own line. I have tried two so far, and my favorite is Missha M Perfect Cover B.B. Cream SPF 42
. The link is to amazon.com. I have found Missha B.B. Cream at other online shops, and the prices start at $25. I have purchased mine at amazon.com for $12.
 The other brand I tried was Hanskin Magic B.B. Cream. It left my skin very sticky, even after applying a powder. Not a feeling I love. The true test to never wearing that brand again was when my little granddog came over and after about 30 minutes I probably had 100 dog hairs stuck to my face.  Ewwwww.  I mean, I love the little feller, but really!
So what do I love about the Missha B.B. Cream? I only need to use one product, and it takes VERY little to cover my entire face. I love getting rid of so many "prep" products, as I had noticed before that the more I was putting on my skin to try and help with those dang creases under my eyes, the worse it looked. I really think my skin looks better with the B.B. Cream than with regular foundation. I met my sister recently for dinner, and she said my skin looked brighter and "tighter".  Love that!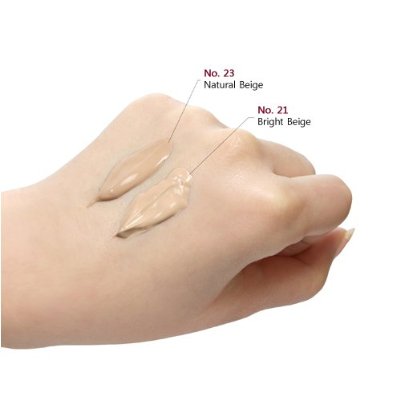 AND it has SPF 42! My shade is No. 21. You can see a complete list of colors on Missha's official page. It may help to compare the chart on Missha's webpage to the two colors above. Sorry, I couldn't find a picture of all the colors. I am as pale as pale can be, with some freckles, and some discoloration on my face, and No. 21 is a perfect match for me.
Here's the skinny on Missha B.B. Cream:

Winkle care + UV Proof(SPF 42 PA+++) + Moisturing + Make up base + Foundation.

It provides excellently concealing any types of pigmentation or discoloration area on face including acne, couperose, vitiligo, age spots, sun spots and dark circles.
· For all skin type even for acne skin type
· It can be used as a makeup base or foundation.
· Containing substances for Soothing the skin (Na-complex)

MISSHA M BB Cream Contains natural ingredients that do not damage or irritate the skin. With Continuous use, your sensitive skin will be calm, protected from redness and keep its health.

MISSHA M BB Cream is a natural care cream for sensitive skin, naturally covering the irregularities on the skin as well as improving skin texture. Botanical ingredients, such as mugwort and pumpkin, and the nutritional ingredients keep skin moist and silky. MISSHA M BB Cream is a multifunctional product that can be used instead of makeup base and foundation.

Blemish Balm, also call BB Cream, is known to have been formulated as an after-treatment cream to help patients who have gone through laser skin surgery to soothe and regenerate the skin.

-Helps to soften skin texture
-Prolonged used of product may help to improve overall texture of skin & fade acne scars
-Act as a makeup base & foundation
-Helps to cover the irregularities on the skin, even out skintone, camouflage undereye circles, scars & add radiance to face
Let me know in the comments section if you have tried any of the B.B. creams, and your favorites.