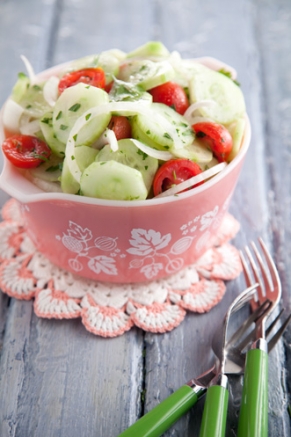 Ok, see if this checks all your boxes! Light? Check. Easy? Check. Tasty? Check. Summer Salad? Check. This is Aunt Peggy, as in Paula Deen's Aunt Peggy's Cumcumber, Tomato, and Onion Salad. Put one slice of cucumber in iced water while making this salad, and for a moment, you might think you are at a spa. I try to make it enjoyable for you!
Aunt Peggy's Cucumber, Tomato, and Onion Salad
Servings: 4 to 6 servings
Prep Time: 15 min
Difficulty: Easy
1 pound cucumbers (about 2 cucumbers), peeled and thinly sliced
1 pint cherry tomatoes, halved
1/2 Vidalia onion, very thinly sliced
2 tablespoons chopped fresh parsley leaves
1 tablespoon apple cider vinegar
1 tablespoon olive oil
Salt and freshly ground black pepper
In a large serving bowl, toss together the cucumbers, cherry tomatoes, onion, parsley, vinegar, olive oil, salt, and pepper, to taste. Let the salad stand for 10 minutes before serving.