My favorite travel mug is the Contigo Travel Mug
. It keeps your hot drink hot or cold drink cold for hours. Last week I had a doctor's appointment. Left the house with my hot coffee, and after my appointment was over with the doctor; it was five hours since I had left the house. Coffee was still hot!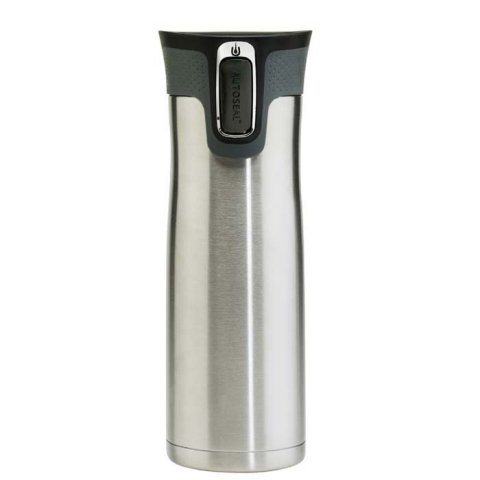 I have the 20 oz. stainless steel mug, which I linked above with amazon. I purchased a set of two at Costco for about the same price as the single on amazon.
In addition to keeping your drink hot or cold, this mug does not spill, or leak. Have you ever had on your nicest outfit, took a sip of your coffee, only to have the lid come off or spill all over you? The lid on the Contigo will not even open unless your fingers depress the button to open it. Wunderbar.
According to Contigo's website:
Never spill another drop! 100% spill- and leak-proof travel mug uses exclusive AUTOSEAL® technology to prevent accidental spills. Press the AUTOSEAL® button to sip, and release the button to automatically seal. This self-sealing lid technology is combined with a double-wall, vacuum-insulated, stainless steel mug, providing exceptional temperature retention. Beverages stay hot for 4 hours or cold for 12 hours.

Benefits:
Patented AUTOSEAL® lid is 100% leak-proof and 100% spill-proof.
Drinking made easy! Press to sip. Release to seal. The AUTOSEAL® Stainless Steel Mug automatically seals between sips to ensure no spills.
Vacuum-insulated technology keeps beverages hot for 4 hours, and cold for 12 hours.
Contoured body makes this travel mug easy to hold and easy on the eyes.
The AUTOSEAL

®

 Stainless Steel Mug will hold up to 16 oz. of your favorite beverage and fits most standard car cupholders.
Constructed with a double wall and stainless steel inside and out for maximum travel mug performance.
Made from 100% FDA-approved materials.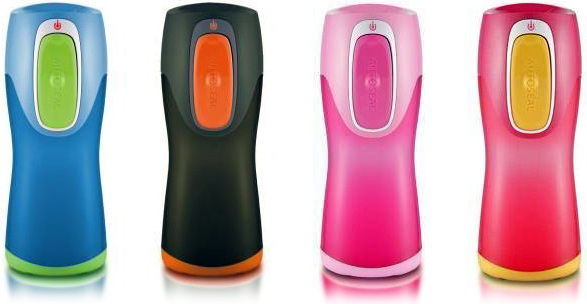 They also have kid sizes. If I had kids, I would definitely get these. Of course you can ask my son, he was never allowed to eat or drink in my car. I have OCD issues. Luckily for him we never took long car trips!