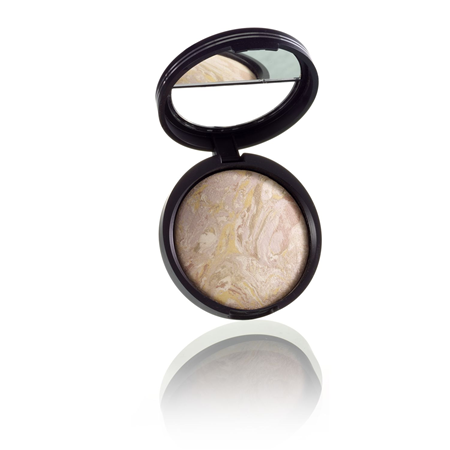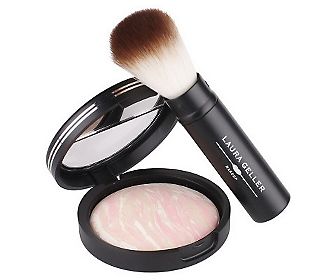 Sometimes I go to write about a product I love, and realize that I am using it all wrong. This will be one of those posts. I adore Laura Geller Balance-N-Brighten. Only problem is I thought it was a powder, which is how I use it. When I read the back of the container to make sure I was using the correct title, I realized it is a powder foundation. Now, feel free to use it like that if you want. However, I have the color "porcelain", which is the second picture above, and after I read it is a foundation I tried it like that. There is no way I would use this as a foundation, it does not give me enough coverage. I use it with my Missha BB Cream, and love the finish it gives me. Never cakey or too heavy, just the right coverage to give me a matte finish, but brighten at the same time.
From Laura Geller:
This skin perfecting makeup is one of the stars of my Baked Collection and now comes with the added benefit of SPF 15 protection. Like all of my Baked products, Balance-n-Brighten begins as swirled liquid pigment that is baked on a terracotta pan for 24 hours by artisans in Italy. The result is a smooth, soft focus powder that corrects unevenness, blurs imperfections and leaves skin looking simply flawless. You'll love the silky formula that brushes on so easily. Plus, it's mineral oil free and paraben free, and loaded with skinloving antioxidants Centella Asiatica and White Tea Extracts.
Apply Balance-n-Brighten all over your face or with your favorite base for an even and healthy glow. Mix with Bronze-n-Brighten to achieve a bronzed complexion.

TIP: Did you know you can also use Balance-n-Brighten as a concealer? Tighten up your retractable brush by pushing the tube towards the edge, so the bristles become more firmly packed and pick up more product. Now, swipe Balance-n-Brighten over blemishes, dark circles, red patches and other trouble spots. Layer it on for extra coverage.
So if you need a color correcting powder or foundation, I would give this a try. I have used this for at least six months and still plenty of product left. You can find this at laurageller.com, beauty.com, qvc.com, or amazon.com.
Let me know what your favorite powder is in the comment section.