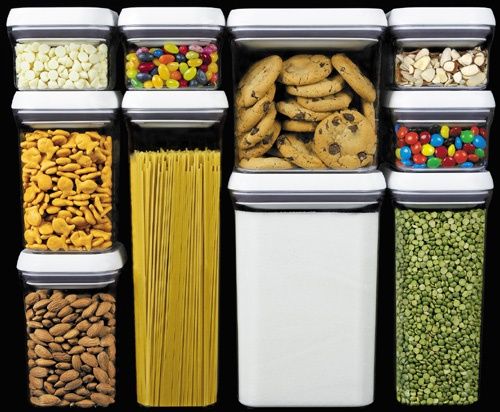 The Good Grips Storage Containers are my favorite containers for dry food. I use the 1 1/2 quart storage container for my ground coffee, and nothing will keep your coffee fresher than the Good Grips. The first scoop out is still as fresh as the last scoop. I also use one of the taller ones for my pasta, and one for my protein shake mixture. If I had small children I would love the smaller ones for keeping their little snacks.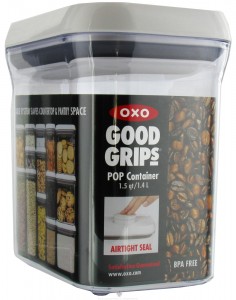 From OXO:
The OXO Good Grips POP Containers are airtight, stackable and space-efficient, making it easy to keep your dry foods fresh and your kitchen organized. The Containers have a unique push-button mechanism that creates an airtight seal with just one touch. The button also serves as a handle to lift off the lid. The Containers are designed for modular stacking so that you can efficiently organize your countertop and pantry. In addition, with their square shapes, the POP Containers make the most of any storage space, while their corners allow for easy pouring. This set contains 5 POP Containers that are ideal for storing a variety of dry foods including pasta, brown sugar, nuts, candy and spices. They are also great for use in the home office, sewing room, play room and more; in fact, the Containers can be used in so many places that you'll want them POPping up everywhere. The Container lids come apart for thorough cleaning. All POP Containers are BPA free.
I have many other OXO products, including a potato peeler, tongs, and ice cream scooper, and I love them all, but these storage containers are my favorite. If you have never heard of the brand you can find it at Bed, Bath and Beyond, Container Store, and of course, amazon.com.
Do you own any of these products? Leave me a comment about your favorites, or your favorite storage containers in the comment section.