I will go on record by stating that there is absolutely nothing better for Thanksgiving leftovers than a turkey sandwich, on fresh white bread, with only Hellmann's Mayonnaise and celery salt. Celery salt is the secret ingredient, and I'm sharing it with you. Try it! You'll thank me. But let's keep that secret ingredient between us, okay?
For those of you who want to make another meal out of your leftovers, use that leftover turkey to make turkey soup. My mom always made turkey soup on the Friday after Thanksgiving.  I looked and looked for her recipe but  couldn't find it for you.  I think she just threw everything in a pot with some broth and water. It was good. Not turkey sandwich good, but good nonetheless.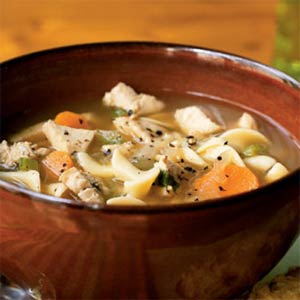 I found a turkey soup recipe on food.com that looked easy enough so I wanted to share with you:
Turkey Soup
2 cups diced cooked turkey 1 yellow onions, chopped 1 cup celery, diced 1 cup carrots, diced 1 cup fresh sliced mushrooms 1 teaspoon dried basil 1/2 teaspoon dried rosemary 1 garlic cloves ( smashed or finely diced) 2 teaspoons butter 3 cups chicken broth 2 cups diced potatoes 1 cup whole milk 1/2 cup sour cream parsley flakes ( to garnish)
Sauté the vegetables (with the exception of the potatoes), basil, garlic and rosemary in the 2 tsp butter until lightly browned.

Add potatoes, turkey and broth.

Simmer approximately 15 minutes.

Reduce heat; add milk salt and pepper to taste.

Simmer 20 minutes.

Remove from heat and serve hot with a hearty dab of sour cream and a sprinkle of parsley for garnish.
After a long day of company and black friday shopping, who doesn't want a big, warm bowl of soup?  Besides me?