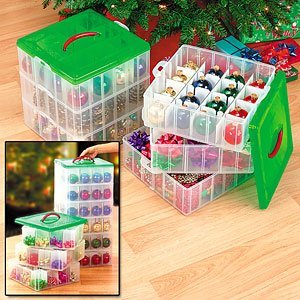 Years ago I was completely fed up with the cardboard ornament boxes I was using. They were not sturdy, and way too big. So I searched and found these Snapware boxes. I think I ordered mine from a website with the word "organize" in it, but I've searched and all the sites with those names are either not selling this brand anymore or are out of stock. You can read reviews about these boxes on qvc.com, or amazon.com, but in researching for this post, I found the best price is at kmart.com.
Every year now, I get so excited when I get these out of my closet. That's right, I keep them in my closet now instead of the attic. They take up so little room, and all stack on top of each other so you can have a ton of ornaments just stacked up in one corner of your closet. An added plus for me because it gets very, very hot in my attic!
Each tray snaps together, and you can use cardboard dividers to separate. That is also a good feature because you can use the cardboard or remove it depending on the size of your ornaments. I stack them up four trays to a handle, and while decorating or undoing the tree, I can spread each tray out to see what I am working with.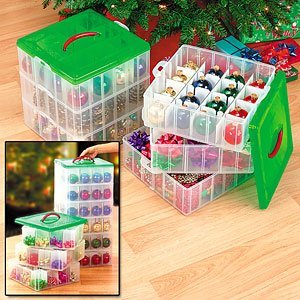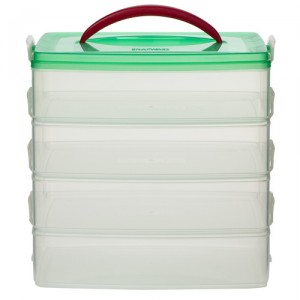 I have two sets of four of the larger containers for normal size ornaments, and two sets of four of the smaller containers for my smaller ornaments, or flat ornaments that I can stack all together in one tray.
Let me know if you have tried these or have another great storage system for your ornaments in the comment section.