Whoo-hoooo! It's New Year's Eve.  If you are boring like me you will be staying home. If you lead a more exciting life, please scroll down to the last app I am recommending.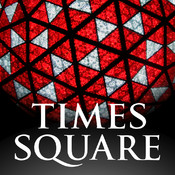 If you prefer to watch a movie instead of Ryan Seacrest, the Official Times Square New Year's Eve app is for you. It will keep you up to date on the countdown, and even provides a live web cam so you get to see all the action.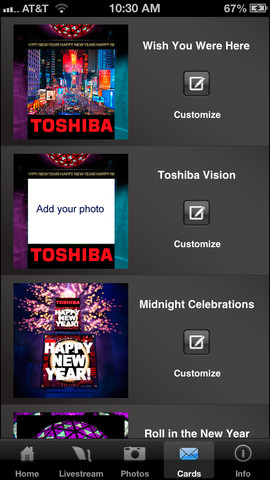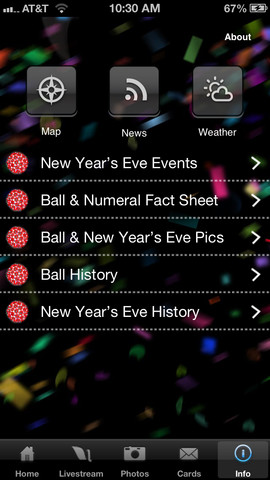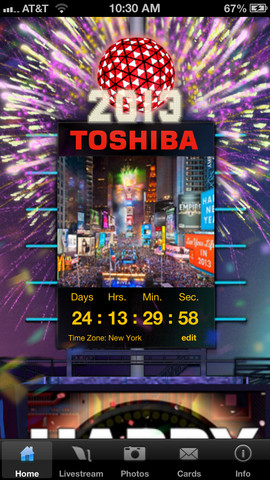 You can upload a photo and send to all your friends to wish them a Happy New Year.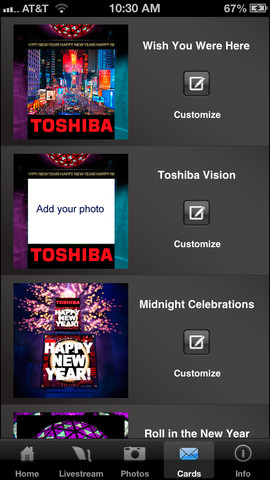 From the developer:
Join millions of revelers around the world to celebrate New Year's Eve LIVE. The Official Times Square Ball App is your exclusive access to be part of the activities in Times Square as you watch the LIVE co-hosted official show featuring opening ceremonies, musical performances, celebrity appearances, hourly countdowns and the midnight Ball Drop!

Don't wait until December 31st to enjoy the Times Square Ball App. Download today!

Features:
•Participate in the celebration by submitting your New Year's photo for friends, family and other revelers to vote on their favorites and possibly be selected to be seen on the Toshiba Vision screen atop One Times Square directly beneath the Waterford Crystal New Year's Eve Ball on December 31st! The selected photos will also be featured on the LIVE Show.
•Discover everything you need to know about the Times Square New Year's Eve Celebration including the history, news, weather, photos, map and event schedule.
•Send New Year's Eve ecards and share photos with friends and family.
•Watch live streaming of the events in Times Square leading up to New Year's Eve throughout December as well as the highlight promo and other exclusive video content.
•Customize your Toshiba Countdown Clock with your personal photo and time zone.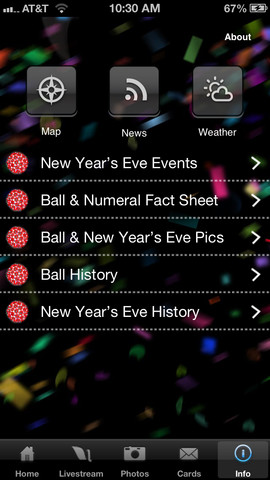 Next up is the Horns 2010 app. Don't let the year fool you. I looked through a lot of horn apps to find the perfect one for ringing in the new year. And you can really go crazy by making all the horns go off at once! My test drive has driven the hubby crazy! Oh, and it's free.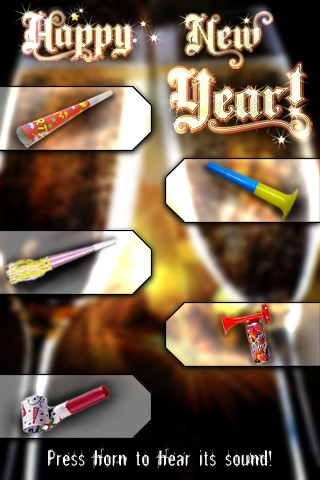 Lastly, to those of you who are going out tonight, please, please, please call a cab if you have anything to drink. Better safe than sorry. Getting arrested is no fun.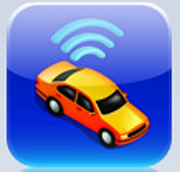 Taxi Magic is a free app that allows you to contact a cab company in your area, and even tracks your cab so you will know how close it is to arriving to take you home.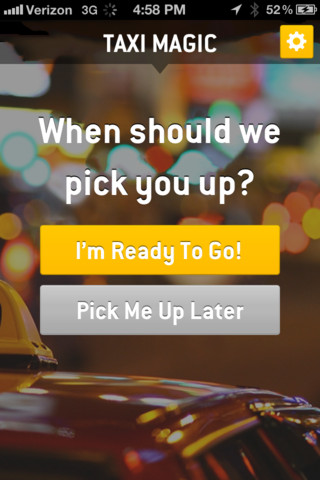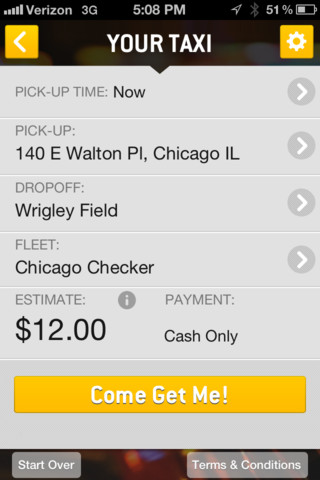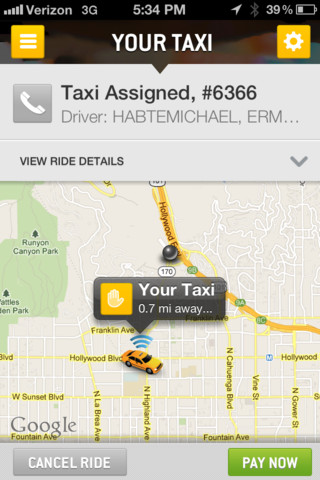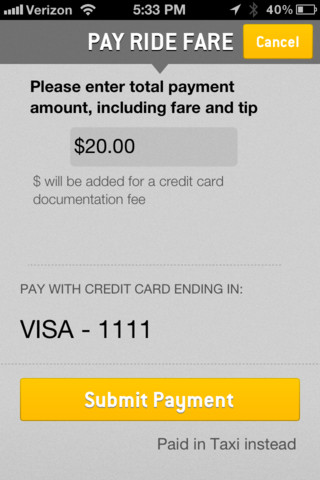 From the developer:
Free electronic taxi booking nationwide with the award-winning Taxi Magic app.

Taxi Magic is revolutionizing the taxi industry with the first online taxi booking service directly integrated into taxi dispatch systems, so no phone call is needed.

– Find taxis based on your location.
– Book a taxi in a few quick taps.
– Track the arrival of your taxi through dispatch updates and a map view.
– Charge the ride to your credit card.
– Expense the trip with an e-receipt.

Recent top app awards include CNET, Wired, Business Insider, and SFWeekly.

'Magic Booking' is available with 75 leading taxi fleets in over 50 major U.S. cities, with tap-to-call fleets in over 4,000 cities across the U.S., Canada, and Mexico.

Alexandria | Ann Arbor | Arlington | Atlanta | Baltimore | Bethesda | Boston | Boulder | Buffalo | Charlotte | Charlottesville | Chicago | Clearwater | Cleveland | Colorado Springs | Columbus | Dallas | Denver | Des Moines | Fairfax | Fort Worth | Ft. Collins | Ft. Myers | Honolulu | Houston | Jacksonville | Kansas City | Los Angeles | Loudon County | Memphis | Milwaukee | Minneapolis-St. Paul | Monterrey | Naples | Nashville | New Orleans | Orange County | Orlando | Palm Springs | Phoenix | Pittsburgh | Portland | Sacramento | San Diego | San Francisco | San Jose | Seattle | St. Louis | Tucson | Waltham | Washington

The Taxi Magic app and booking service are free. If you want to pay for the taxi ride with a credit card through the app and receive an e-receipt there is a $1.50 documentation charge.

Whether traveling to a new city or out on the town at home, Taxi Magic is the essential taxi application.
If Taxi Magic is not available in your area, you can call AAA Tipsy Tow at 1-800-222-4357, and they will take you home and even tow your vehicle within three miles for free. There is a charge for towing if you are further away than three miles. Seriously people, I want you all to have fun but be responsible.  There are lots of people sitting in prison today who never thought they would get arrested for drunk driving.  There are also lots of families destroyed because a drunk driver killed their loved one. It is very easy to have fun AND be responsible.  I say this with love.
Happy New Year!