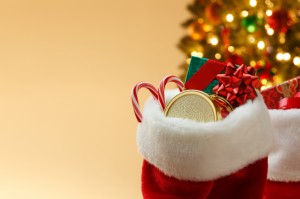 If you still haven't purchased anything for stocking stuffers here's a quick list of some easy finds to add to the stockings:
Chapstick
Gift cards (see yesterday's post!)
Batteries
Keychain
Hand sanitizers
Wet Ones
Travel size lotions, shampoos, shaving cream, deodorant, or hair spray
Book light
Luggage tags
Tire gage
Toothbrush
Socks (good for stuffing the bottom)
Gum
Cocoa
Measuring spoons
Flash drive
HDMI cables
Baseball cards
Small flashlight
Pencils and pens
Paper clips
Bookmarks
Post it notes
Letter opener
Magnets
Lottery tickets
Loofah
Extension cord
Ornament
Which side are you on? Do you wrap each item you put in the stocking or just stick them in the stocking? I'm amazed that there are people out there that wrap each stocking stuffer. I am not one of those people. My family is lucky that everything they open isn't from a gift bag!