My hairdresser gave me a gift set of the Farouk Royal Treatment by CHI products and I must admit, it's yet another hair product that I give a two thumbs up review. Except the hairspray, I'm not going to go into the hairspray because it was just average.
However, there were two stand-outs that I will definitely repurchase. First up is the Pearl Complex
 leave-in treatment. It's oil based, and the 2 ounce bottle is priced at $3.85.  Much like the Suave Keratin Leave-in Conditioner, a little dab'l do you, so even though two ounces doesn't sound like much, when you use just a drop, it will last. Trust me. I've picked up a few pointers in my life. It will smooth out all the frizzes and leave your hair smooth and soft.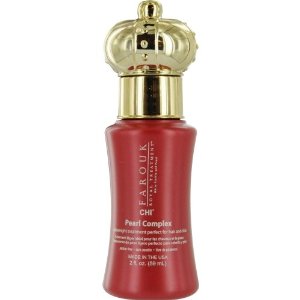 The Pearl Complex is a superior lightweight leave-in treatment with white truffle and pearl developed for all hair and skin types. It will replenish, reconstruct, and nourish, while helping in repairing split ends without buildup or added weight. My hairdresser told me that her rep said he loved it so much he also uses it on his skin.
I am sure you are familiar with the CHI products. The CHI Straight Iron is almost a staple these days with everyone but me. I tried a straight iron once and almost ended up with some serious burns. You cannot teach an old dog new tricks sometimes.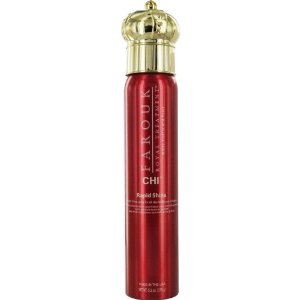 Next up is Rapid Shine
. Oh my goodness do I love this stuff! A quick spray and my hair is so shiny I look like a teenager who swims every day! It can leave your hair oily if you overuse, but i promise just a quick spritz and you are golden. Well, golden if you are a blonde. Whatever shiny color you brunettes are redheads what to achieve you will be with this. I think. I am blonde. Not having a blonde moment, just can only speak for the blondes.
According to CHI, Rapid Shine weightless spray with white truffle and pearl provides instant brilliant shine to all your hairstyles. This exclusive formula will help repair split ends and eliminate frizz, while providing the utmost protection.
The only criticism I have for these products is the crown lid. Not so much for the Pearl Complex serum, but I like to store all my aerosol cans upside down and I can't with the crown lid.
Farouk Royal Treatment by CHI also has shampoo, conditioner, and styling gels which I must try, as soon as space opens up in my boudoir and I will of course review for you then.