I have blogged before about my love of makeupgeek.com. I subscribe to her channel on youtube. I have ordered from her line of brushes and eyeshadows. Recently, I ordered her new gel eyeliners, and must say I am smitten. Let me first say that I have never used a gel eyeliner before so I really don't have anything to compare it with. But in looking at other gel eyeliners on Sephora, where the price starts at $20, I don't think I will be trying any of them because I am totally satisfied with the makeup geek gel eyeliners, and at $7.99 each, why would I pay three times that amount?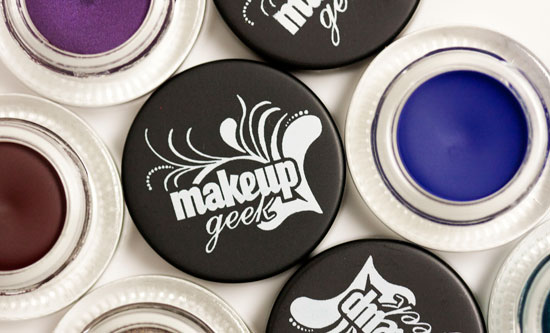 I was getting a little tired of constantly sharpening my eyeliner pencils, like before every use. I tried the liquid eyeliners and looked like something out of a horror picture. I don't seem to have the skill of drawing a straight line. I didn't like that if I tried to smudge it to correct the line, I ended up looking like a hot mess. Still hot, but a mess.
I have been so thrilled with the gel eyeshadows that have come out I thought why not try the gel eyeliners. FYI, makeupgeek.com does not have gel eyeshadows yet, but I understand they are in the works.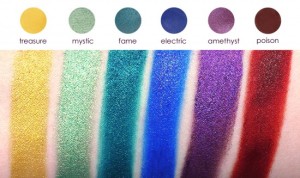 Makeup Geek was nice enough to post swatches, so I will share those with you.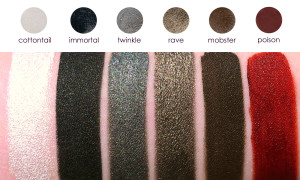 From Makeupgeek.com:
With the Makeup Geek Gel Liners you can get the same precision as a liquid liner. The eyeliners glide on with ease and dry to a water-resistant, smudge-proof finish that won't fade or crease. With their intense color and rich pigmentation, these long lasting liners are sure to make a standing impression.
 See All 11 Shades in the Makeup Geek Store – only $7.99 each
Amethyst – Saturated violet/purple color with a metallic matte finish.
Cottontail – A sheer metallic white silver with a smooth shimmery finish.
Electric – True bright royal blue with a matte finish.
Fame – A dark aquatic teal with a navy undertone and a smooth shimmery finish.
Immortal – A true intense black color with a matte finish.
Mobster – A deep chocolate brown with a matte finish.
Mystic – A light emerald green with a metallic gold shimmery finish.
Poison – Rusty Red color with a matte finish.
Rave – A dark metallic golden brown shade with a smooth shimmery finish.
Treasure – A true bright golden yellow with a metallic shimmery finish.
Twinkle – A metallic dark gray with blue undertones and a smooth shimmery finish.
I have Monster. I'm a simple girl. Just give me a brown eyeliner and I am fine. Plus you know how I feel about shimmer. I have used the gel eyeliner for over a month and find it quick and easy to apply, and I can smudge it if I make a little boo-boo or just want a smudged look. And, I cannot emphasize this enough, these eyeliners are bullet proof. They do not wear off. I actually have to hold my eye makeup remover pad over my eye for a little while to get it off. I don't dare pull on my lids! Do you think there really is harm in pulling on your eyelid? I've heard it all my life but I really have never met anyone who says, "Oh look at me. I pulled on my lids all my life and I look just like you". I kinda think it really doesn't hurt to pull but not sure what it is supposed to do to my eye if I do.
I digress. So to wrap up, I love makeupgeek.com. Love the eyeshadows, love the brushes, and now love the gel eyeliner. Oh, and I don't know if these things dry out or not but I can assure you that mine still looks great. I tried to take several pictures for you so you could see for yourself. This was the best one even though it's a little blurry, I think you can still see it's not dried out in any way, shape, or form.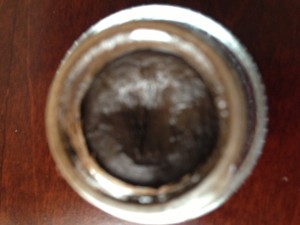 Have you tried any gel eyeliners or any other products from makeupgeek.com? Please let me know in the comments section.