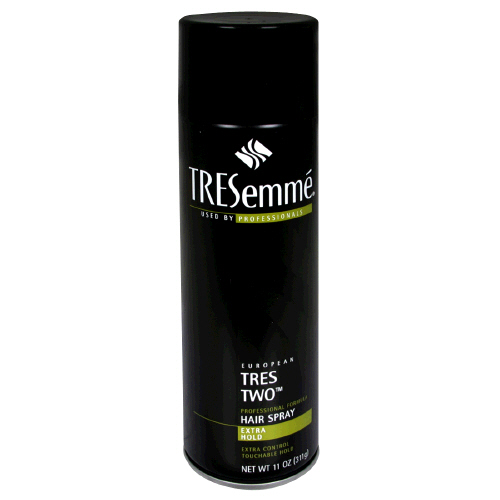 Cue the Angels singing.
Girls, this is IT! This is THE hairspray. I know I have reviewed hairspray before. Disregard all previous posts about hairspray. Run out and get'cha some TRESemme Tres Two Extra Hold Hair Spray
 today.
My hairdresser uses this hairspray. And she is, after all, an expert.
From TRESemme:
TRESemme TRES TWO Extra Hold Hair Spray, is a salon performance working spray that allows styling time before drying for maximum creativity and control. Provides all-day touchable hold. Won't build up or flake. Provides a flexible control thats even water-free and humidity resistant. This fantastic hairspray refuses to let frizz take root, thanks to its humidity-resistant formula that keeps flyaways smooth for 24 hours. An added bonus: its water-free formula goes on dry, giving hair grip and control without stickiness for frizz-free hold.
Another bonus? It's under $5 a can. I've been using for a few months and even gave a can to a friend of mine who immediately sent me a text after her first use telling me she was in love. I feel the same way. It is a super fine mist, so there's no "denting" of the do as you spray. It holds, but it's not gluey, or sticky, or icky. I like to be able to run my fingers through my hair. I don't like helmet head. I fluff out my hair after rolling and spray, and it holds. And holds. Today I am actually wearing my hair scrunchy and it holds those curls too.  I am naturally curly. This is something that developed late in life.  I now have hair that I used to pay someone to put a perm in to make it do the same thing. When I curl my hair and use the TRESemme, it comes out soft but holds. When I go curly scrunch, it holds but the curls look soft and fluffy.
I have been using TRESemme products for decades, and it's always been a great brand. Do you use any TRESemme products? Let me know in the comments section.