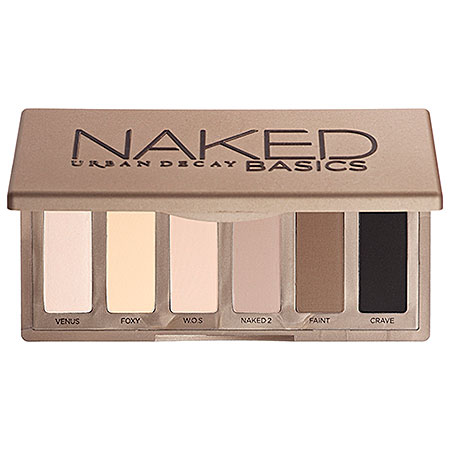 I received lots of great gifts for Christmas, and some great gift cards too. YAY! So, I ran to Sephora and purchased the Urban Decay Naked Basics Eye Palette. I will tell you why I love this palette. First, I think I've mentioned before that I am as old as dirt. I think, and this is my personal opinion, that a woman over 50 has no business wearing shimmery eyeshadow. It just emphasizes the wrinkles, and that's a look I try to avoid. I do not wear anything that is frosty, or shimmery, or metallic, or sparkly, or glittery, or. . . you get the picture. I am strictly a matte finish girl. And I use the term "girl" loosely here. So, I was immediately attracted to the Urban Decay Naked Basics because as you can see from the picture, they are all nice, conservative, matte shades. Another plus, is that I usually try not to purchase palettes because I end up only using one or two of the colors and that's it. Urban Decay's world-famous Naked Palette has a lot of colors I would never use, with a price of $50. The basics palette is $27, and I have used every shade. Now, to be perfectly honest, the last shade is waaaaaaaay to dark for me to use as an eyeshadow but you know what? I can use it as an eyeliner, so it is not wasted. And the Venus shade may have a tinge of shimmer, but it's enough for an old hag like me to get away with.
The pigment is great and the shadows go on smoothly. I am really impressed with the shadows and the packaging is sleek with sort of a smooth suede finish. It's not too big to have with my other eyeshadows, and it would be great for travel, or to stick in your purse.
Did you get any beauty gifts for Christmas? Please share your finds with me in the comment section.