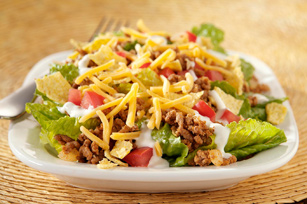 Now that the temperatures are finally getting a little warmer, I'm ready for some quick, light meals. Here's a great recipe from the Kraft Foods website that I love.  Hope you do too!
Quick Taco Salad
1 lb.   lean ground beef
1 onion, chopped
1 pkg.  (1-1/4 oz.) TACO BELL® HOME ORIGINALS® Taco Seasoning Mix
1/4 cup  water
10 cups  torn romaine lettuce (about 1 large head)
2 tomatoes, chopped
1 cup  KRAFT Shredded Cheddar Cheese
2 cups  tortilla chips, coarsely crushed
1/4 cup  KRAFT Classic Ranch Dressing
 BROWN meat with onions in large nonstick skillet on medium-high heat; drain.
ADD seasoning mix and water; mix well. Bring to boil. Simmer on medium-low heat 3 min.
DIVIDE lettuce among 4 plates. Top evenly with meat mixture, tomatoes, cheese and crushed chips. Drizzle with dressing.