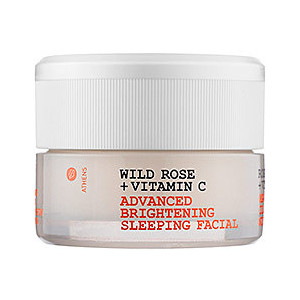 I visited Sephora recently, and asked my sales clerk what the latest, greatest magic potion was, and she told me I should try the Korres Wild Rose + Vitamin C Advanced Brightening Sleeping Facial. Boy, that's a mouthful! You know me; I'm game for anything. It comes in a very small jar (1.35 ounces). I have been using for several weeks and haven't even put a dent in it.  It takes a very small amount to fully cover your face and neck. I really haven't noticed any brightening, or lightening of the age spots yet (and yes, I have them) but I do love the way my skin feels. It feels just as soft as it does after I spend $100 on a professional facial. And it stays that way. I love the smell, it reminds me of my mother.
From Korres:
This overnight facial-in-a-jar is a breakthrough in beauty sleep. More than a mask, more than a night cream, it contains the Korres Phos Compound, a proprietary blend including a brightening agent and stabilized vitamin C. Day after day, week after week, uneven tone and dark spots will continuously improve. After only 14 days you'll see skin that's brighter, more even-toned, and exceptionally radiant.
It's $48 for the jar, and you know how I feel about not spending a lot on lotions and potions, but I do think this one is worth the price. This is my first Korres product, and I will definitely be checking out their line to see what else they have to offer in skin care.