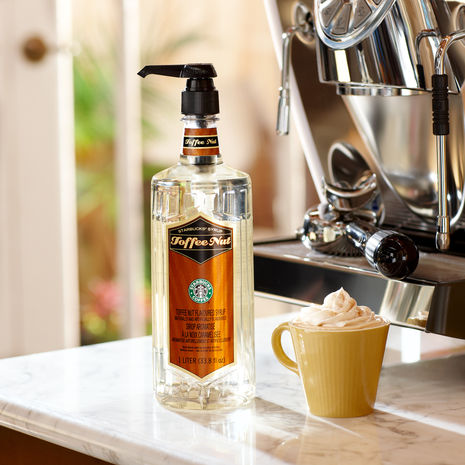 If you love Starbucks, like I love Starbucks, you will love this tidbit of information, if you don't already know it. You can purchase these huge bottles of Starbucks syrups for $10 from your local Starbucks store, or starbucksstore.com. The one liter bottle will last you forever because you only need about a teaspoon per cup. If you have ever tried the Torani brand of syrups you can pick up at your local supermarket and been disappointed because they are not as good as Starbucks, trust me, Starbucks syrups are as good as Starbucks. It is the same syrup they use to make your yummy coffees.
Be sure and ask for the pump, because the syrup sticks to the lid and makes it very difficult to open! My favorite flavor is Toffee Nut. Years ago it was carried on the menu, but they took it off. However, they still have it so you can order a Toffee Nut Latte at Starbucks too, and trust me, you should try it! It's my favorite. And it's one of those little inside things only the cool kids know.
A great gift to give a coffee lover is a Starbucks gift card.  Even better gift would be a Starbucks gift card and one of their syrups.  All of the sugar free flavors you can order at Starbucks are also available to purchase.