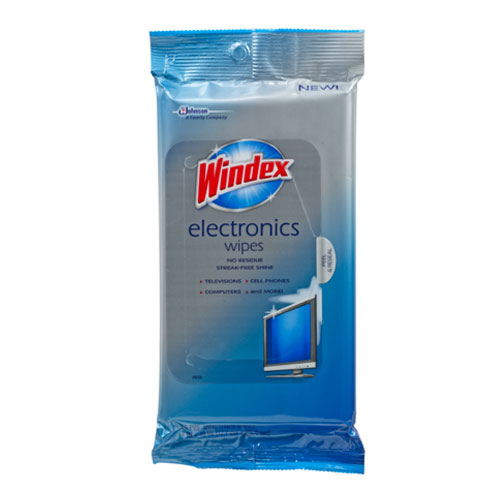 I have tried to find the perfect cleaner for my flat screen televisions and computer monitors for years and finally my beloved Windex has made all my dreams come true. Okay, not all my dreams, but my screen cleaning without damaging a monitor or flat screen television dreams come true. The Windex Electronics Wipes
 worked very well for me, cleaning all the smudges on my computer screen left by people who like to put their greasy fingers on my monitor to point out certain things to me. These are the same people who put their greasy fingers on my car windows to point at stuff. Hello? I don't need you to actually touch glass to make your point. Stop doing it! My boss actually exited my car once after I told him to stop leaving marks on my window by licking his fingers and smearing the entire passenger window. People really know how to irritate me! Now I can just keep my irritation silent so as to not make a situation worse when someone decides I need them to use their finger to point out something on my monitor. But now with touch screen laptops, iPhones, iPads, etc., there will be prints, so there needs to be a great cleaner for that. Enter the Windex Electronic Wipes.  I tried the first one on  a small flat screen television in a guest bedroom just to be safe, and then went to town all over my house with all my electronic gadgets.  Television screens cleaned! Computer monitor cleaned! iPad cleaned! Laptop cleaned! All cell phones, cordless phones, and even calculator screens now all clean! I am happy, happy, happy!
I really truly have tried lots of things to get rid of smudges without success in the past so I am really thrilled with this product. In looking at product information, I found that Windex also makes Electronics Dry Cloths
 that I will definitely purchase. I have tried several microfiber cloths in the past that have not worked for me. The Windex Electronic Dry Cloths get very good reviews so I will add to my arsenal of cleaning supplies. I must tell you that I purchased the aerosol Windex Electronic Spray in the past and tossed it after one use.
I have used Windex glass cleaner all my life. I recently blogged about my new love for Windex Touch Ups. I will definitely be repurchasing the Touch Ups and the Electronic Wipes. I like to have everything clean and spotless!