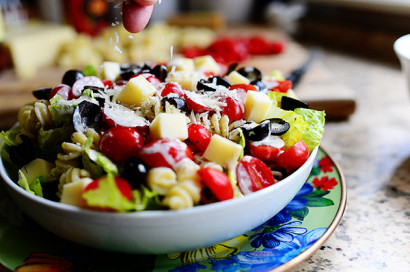 Last installment of Salad Month is one of my favorite recipes, and chefs, Ree Drummond of thepioneerwoman.com's Pesto Pasta Salad. Try saying that three times!
Pesto Pasta Salad
8 ounces, weight Short Fusilli Or Rotini (corkscrew) Pasta
⅓ cups Prepared Pesto
½ cups Shredded Parmesan Cheese
½ cups Mayonnaise
½ cups Sour Cream
¼ cups Milk, More For Thinning
½ teaspoons Salt
½ teaspoons Pepper
1 head (large) Romaine Lettuce, Sliced Into 1-inch Pieces
1 cup Grape Tomatoes, Halved
½ cups Black Or Kalamata Olives, Halved
4 ounces, weight Mozzarella Cheese, Cut Into Cubes
4 Tablespoons Pine Nuts (optional)
Extra Parmesan, For Sprinkling
Cook the pasta in salted water according to package instructions. Then drain it and rinse in cold water. Allow pasta to dry slightly, then toss in a bowl with 4 tablespoons pesto. (Add more if you want the pasta to be more coated.) Add Parmesan and toss. Cover and refrigerate pasta until cold.
Make the dressing by whisking together the mayonnaise, sour cream, and milk with the rest of the pesto. Add salt and pepper, then taste and adjust seasonings as needed. The dressing needs to be somewhat thin and pourable in order to coat the lettuce and pasta later. Set the dressing aside.
If you're using pine nuts, toast them over medium-low heat in a small skillet until they brown slightly. Set them aside.
To assemble the salads, make a bed of lettuce in a large bowl, then add a generous layer of pesto-coated pasta. Add tomatoes, olives, and chunks of cheese. Spoon a good amount of dressing all over the top; it should be thin enough to seep down into the salad, not so thick it will stay on top of everything.
Sprinkle salads with pine nuts and a little extra Parmesan and serve!