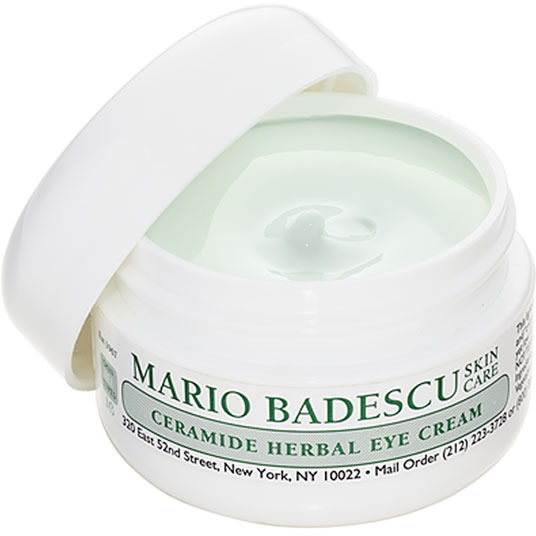 I have blogged about Mario Badescu Seaweed Night Cream, so you should already be on the Badescu Skin Care train. If not, then you need to get on board! Mario Badescu Ceramide Herbal Eye Cream is my new favorite. I know, I know, I say that a lot, but trust me, when you get in your 50's you will be trying everything to get those little wrinkles to go away, or at the very least not get any worse. And I refuse to spend hundreds of dollars on any eye cream. I've told you all before that my dermatologist told me in my 20's that if a product was as great as it claimed to be, it would have to come with a prescription. I try to not spend a lot on one particular thing, but I must admit I do get suckered in a time or two. That's not the case with the Ceramide Herbal Eye Cream. It's $18 for a small container. Most eye creams come in a similar size AND I have been using this stuff for about a month and haven't made a dent – a little dab'l do you! I purchased mine at Ulta, but Ulta does not sell Mario Badescu products online, so I have linked directly to the manufacturer's site if you do not have an Ulta in your area.
Details on Ceramide Herbal Eye Cream from manufacturer:
Made with a blend of Vegetable, Carnation and antioxidant Rose Hips Oil. Reduces the look of dry, tired eyes and helps smooth out fine lines and wrinkles to keep the delicate eye area looking moist and youthful.
What I can tell you is that the consistency is thick, so even though it says to use day and night, I have only used at night. It does absorb into the skin and when I wake up in the morning there isn't any caking or flaking. Very hydrating. Leaves the eye area very soft and subtle. It is not greasy at all. I will definitely repurchase.
After looking at the other eye creams listed on the site, there is one that is a little tougher on wrinkles, so next time I am at Ulta I will get that one and review it for you. However, next week I am going to review a retinol serum, and I want you to have a good cream to apply over it so get ready!