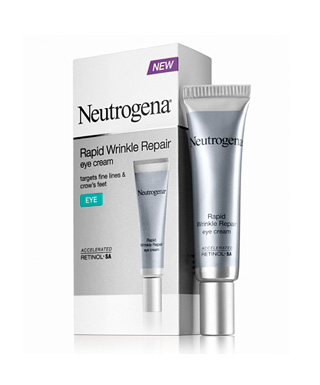 Last week I told you to stock up on some eye cream to prepare yourself for this week's post. Of course now that I am reading the description of the product, I realize that once again, I picked up the wrong thing! DOH! So, you can purchase the Neutrogena Rapid Wrinkle Repair Eye Cream
 pictured above, or you can get the Neutrogena Rapid Wrinkle Repair Serum
, which I have been using. In my defense, the packaging is very similar, and if I don't pull the reading glasses out of my purse, I'm just hoping I'm making the right purchase. I must be in the old lady chains that keep the eyeglasses around the neck phase of my life and don't realize it.
Don't get me wrong, I quadruple love the Neutrogena Rapid Wrinkle Repair Serum, I just didn't realize it wasn't just for eyes, but for your entire face. Luckily for me, my wrinkles are limited only to the eye area.
The Neutrogena Rapid Wrinkle Repair line has accelerated Retinol SA, which according to the Neutrogena website "is a unique combination of the following ingredients – Retinol SA, Glucose Complex and Hyaluronic Acid – brought together to create the fastest retinol formula available".
I did feel a little burning of my crow's feet the first time I used it, hence why since then I have used an eye cream over it. It is some powerful stuff. I surely am not the only woman who thinks burning must equal working, right? Well, regardless, it does work. I have noticed a big difference in the month that I have been using it. I think sometimes my little old wrinkles get used to what I am using and they need me to shake it up a bit to continue. I'm sure if I went to my dermatologist and got a prescription that would work too. I must tell you that years ago my dermatologist was prescribing this stuff and my face was always peeling, so I told him I would rather get wrinkles than be peeling constantly. This stuff did not peel on me, or leave any red areas. But you also have to remember that I exfoliate like a mad woman, and use lotions and potions constantly, so if you don't you may find this a little strong at first. Adjust. Trust me. Getting old is Hell.
You can find the Neutrogena line at all major mega supermarkets or your regular supermarket, and they run about $15-20 each, which is A LOT cheaper than most miracle creams.
The Rapid Wrinkle Repair line also has a day and nighttime moisturizer, which I will definitely be checking out for you. And don't worry; I'm going to pick up some of the Eye Cream too.  Don't you just love the name though? Rapid Wrinkle Repair! They know just how to hook us!