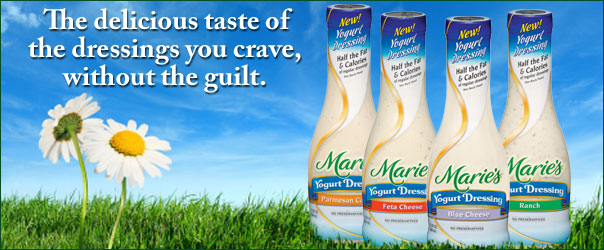 I detest those icky diet salad dressings. I was so happy when I discovered Marie (which is my favorite dressing) carried a line of yogurt dressings. These are DELISH and have half the calories and fat of regular salad dressings.  Did you read that correctly? HALF! What's even better is they are not very thick so a little goes a long way – so in my mind if you use less, and they are half the fat and calories as regular, well, they are practically free! But they do not have that bitter diety taste like some diet salad dressings or reduced fat dressings.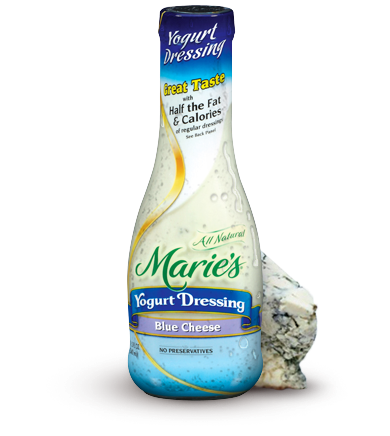 My favorite is Blue Cheese. All natural. No preservatives. Love that! The line of flavors are:
Blue Cheese

Ranch
Feta Cheese
Parmesan Caesar
Honey Mustard
Thousand Island
Cole Slaw
If you aren't familiar with the Marie line of salad dressings, they are usually in the refrigerated produce section of the supermarket, so don't look for them with the rest of those ordinary salad dressings on the shelf! Enjoy and let me know what you think!