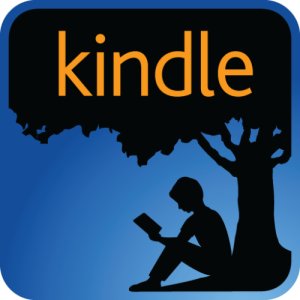 This may be old news to some of you but last month I finally downloaded the Kindle app to my iPad and have been reading nonstop ever since.
Many of my friends have had the Kindle for years and always told me I needed one. I thought I needed to hold a book in my hands to experience it. I'm old school like that. Plus, I didn't want to pay for a Kindle.
But with all the events going on this summer, I found it impossible to sit down and read. If I was able to sit down, my book wasn't where I was. When my dear husband gave me an iPad for my birthday, I thought my life was complete. And once I downloaded the Kindle app, I knew for certain it was. I may not always have the book with me I want to read, but my trusty iPad is always close by. So, I downloaded the free Kindle app and immediately began kicking myself for not doing it sooner.
The MAIN reason I love it so is I am old, and have to wear reading glasses.  At night I have to put on a stronger set to magnify the typeset even more. But not with the Kindle. Because the iPad is lit up, and I can increase the font size, I can read even without my cheaters if I want to!
An added bonus is that there are tons of free books to download from amazon.com. If you haven't downloaded this app yet to your tablet or smartphone, please do not wait another minute to get it.
From Kindle:
The Kindle app is optimized for the iPad, iPhone, and iPod touch, giving users the ability to
read Kindle books, newspapers, magazines, textbooks and PDFs on a beautiful, easy-to-use
interface. You'll have access to over 1,000,000* books in the Kindle Store plus
hundreds* of newspapers and magazines. Amazon Whispersync automatically syncs your
last page read, bookmarks, notes, and highlights across devices (including Kindle), so you
can pick up your book where you left off on another device.

Get the best reading experience available on your iPad, iPhone, and iPod touch:
• Shop the Kindle Store by visiting Amazon for the largest selection of books people want
to read: over a million books, including over 800,000 at $9.99 or less.
• Get free book samples – read the first chapter free before you decide to buy.
• Read hundreds* of newspapers and magazines including The Economist, Reader's Digest, Martha Stewart Living, and Food Network Magazine with high resolution color images. Visit the Kindle Store to subscribe to a newspaper or magazine and have each edition automatically delivered, or purchase individual issues.
• Email PDFs & other documents to your new Send-to-Kindle e-mail address and we deliver them to your device. The documents are automatically archived in the Amazon Cloud and available for re-download on your iOS or supported Kindle devices. You can also read PDFs from Mail, Safari, or by transferring them from iTunes.
• Customize your reading experience by choosing the margin size, background color, font size, and either portrait or landscape format.
• Instant dictionary word lookup with 250,000 entries and definitions. Tap and hold a word to view the definition.
• Search inside the book to find a character, topic, or section you want to revisit.
• Simply tap on either side of the screen or flick to turn pages.
• You can also read your Kindle books on your Kindle, Kindle Fire, Kindle Touch, PC, Mac, Android-based device, and Windows Phone 7-based device. Our Whispersync technology
syncs your last page read, notes, bookmarks, and highlights across devices, so you can pick up where you left off.
• With Kindle textbooks you save up to 60% off print list prices when you buy, and up to 80% when you rent. Use the Notebook in your Print Replica textbooks to review your bookmarks, highlights, notes. Tag and filter the most important items to study.
• Accessibility features make it easier for blind and visually impaired customers to navigate their Kindle libraries, read & interact with books, and more. Enable VoiceOver in your device settings to begin.