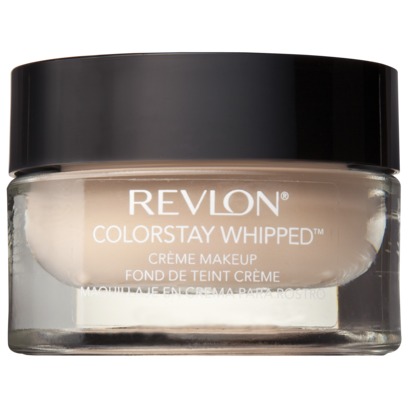 I am in love with my new foundation. I know, I say that a lot. I am a girly-girl who loves makeup, and I love trying new stuff, sharing new stuff with you, and feelin' purdy!
The Revlon Colorstay Whipped Creme Makeup is thick, and at first you may think that means it's going to be heavy and cakey on your face. Au contraire! I just dab a little all over my face and it blends in like magic!
From Revlon:
-Buildable to full coverage for flawless skin
-Soft, matte finish all day long
-Withstands heat and humidity – great for summer
-Comes in 16 beautiful shades
Did you read that girls? It withstands heat and humidity! I live in Dallas, and the summers here are brutally humid. This foundation looks just as good on me at 5 p.m. as it does at 8 a.m. The coverage is fantastic, and yet is still looks light and natural. It covers all my freckles. It's about $10 for .8 ounces, but one little fingertip dip in the jar is enough to cover your entire face.
Do you have a new favorite in makeup land? Share with me in the comments section.