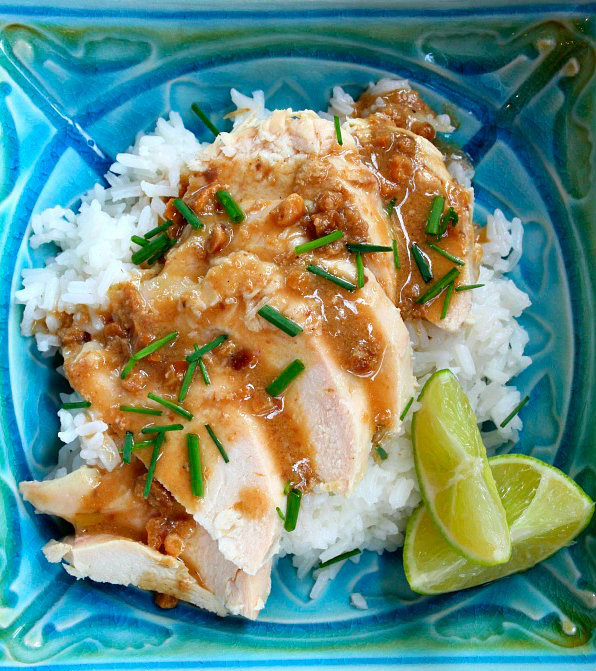 Nothing better than an easy slow cooker recipe. Well, having someone take you out to eat would be good.  Having someone cook for you and then clean up the mess after would be better. We all know that's not going to happen so let's just enjoy this recipe I found from Parade Magazine.
Slow Cooker Peanut Butter Chicken
1 (4-lb) whole chicken*, rinsed (giblets, etc. removed)
½ cup crunchy peanut butter (unless you prefer creamy)
¼ cup soy sauce
¼ cup brown sugar
3 Tbsp white wine vinegar
3 Tbsp water
2 large cloves garlic, crushed
1 lime, cut into wedges
chopped peanuts for serving, optional
chopped chives for garnish,, optional
DIRECTIONS
Place the chicken in the slow cooker.

In a medium bowl, whisk together the peanut butter, soy sauce, brown sugar, vinegar, water and garlic. Pour over the chicken. Place the lid on the slow cooker and cook on low for 6 to 8 hours. Cook until the internal temperature of the leg is at 160 degrees F.

Remove the chicken to a cutting board, slice and serve with a spoonful of the sauce in the slow cooker. If you wish to thicken up the sauce, wrap the chicken in foil to rest, spoon some of the sauce into a saucepan and whisk in 1 tablespoon cornstarch. Heat over medium, stirring, until the sauce thickens. This chicken is especially good over steamed rice. Serve with lime wedges to squeeze over individual servings, and top with a sprinkle of peanuts and chives, if desired.
*You can also prepare this recipe using skinless chicken thighs. Boneless chicken breasts tend to dry out in the slow cooker, so I'd avoid using those.