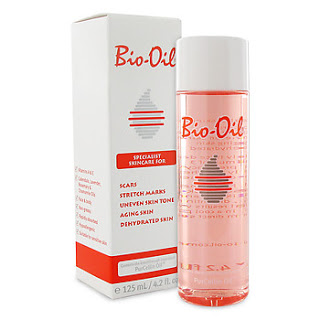 My friend Debbie swears by this stuff. She has used it for years. I'm not a big fan of using oily products, because like the moroccan oil, it tends to just sit on my face.
Earlier this summer, I noticed my forearms were taking on a snakeskin look.  Really scaly. You could touch my forearm and it was soft and lovely, because I have always moisturized. I assumed it was because of my age that this was going to be a permanent thing because it didn't appear dry. Then one day I walked by Bio-Oil on the shelf at my local mega store, and saw these words: dehydrated skin.  Dehydrated skin. Was my skin actually dehydrated? I have been on a pretty strict diet for about a year, so maybe it was really dehydrated due to diet. Maybe, just maybe, I could fix this problem without having to live with it after all!
Well, guess what? It worked! My forearms look so much better. So I started using it daily on my arms AND my neck. Not that it was dehydrated, but we all know that your neck needs some special attention. Especially when you are getting older.  You 20, 30, and even 40 year olds can keep on enjoying that pretty neck. I've seen the future, it's not going to be pretty!
From Bio-Oil:
Natural oils, vitamins and plant extracts combine to create Bio-Oil, a skincare oil that treats aging, uneven and dehydrated skin. You can even use this oil to help reduce the appearance of stretch marks. Most common oils can be too greasy or heavy for your face. The standout PurCellin oil ingredient in Bio-Oil makes this skincare treatment absorb easily into the skin in a feather-light consistency. Made without preservatives, this skin treatment is specially formulated for use on both the face body. As a facial treatment, Bio-Oil corrects uneven skin tone, decreases the appearance of scars and smoothes stretch marks. Use Bio-Oil on the body to improve the appearance of stretch marks and fade old and new scars. You can even apply use this oil as a soothing after-sun skincare treatment or after a warm bath to lock in your skin's natural moisture.
Specialized intensive daily skincare treatment
Helps improve the appearance of old and new scars
Formulated to help reduce the possibility of stretch marks
Improves the appearance of existing stretch marks
Improves the uneven skin tone like pigmentation marks and blemishes
Helps smooth and tone aging skin
Replenishes the natural oils in your skin
Use as a soothing, after-sun treatment
Ideal as a bath oil
Preservative free
Contains natural oils like lavender, chamomile, rosemary and calendula
Rehydrates dry skin
Formulated with Vitamins A and E
It absorbs into the skin fairly quickly. It can be used for dehydrated skin, or stretch marks, or scars, or just old aged skin. It runs about $20 for a 4.2 ounce bottle at the supermarket, which is what I paid. But I have since found it at 
Amazon
 for $12.71, with free shipping.
Let me know if you have tried Bio-Oil, or if you have any skin care tips you want to share with me in the comment section.