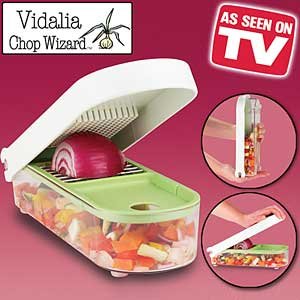 Some "As Seen on TV" gadgets work and some do not, so I am always a little leery of them. The Vidalia Chop Wizard
 does not disappoint. I am all for saving time in the kitchen, and I'm also for saving my fingers!
From the developer:
The As Seen on TV Vidalia Chop Wizard is designed to simplify food preparation. It chops and dices vegetables, fruits and cheese in a single, swift motion. The Vidalia chopper has a 2-cup, catch container with markings on the side for easy measuring. It comes with a chopping blade and a fine-dicing blade. A lid-cleaning tool is also provided with this manual chopper. It's dishwasher safe for effortless cleaning.

Perfect for people who like food prep to be easy, this handy gadget chops and dices veggies with 1 swift motion
Includes a 2-cup catch container, a chopping blade, fine dicing blade and lid-cleaning too
Includes 2 super sharp insert discs for perfect chopping and dicing every time
Catch container doubles as a measuring cup with marks from 1/2 cup up to 2 cups
Includes handy lid cleaning tool; dishwasher safe
If you already own this, please let me know your thoughts in the comments section.