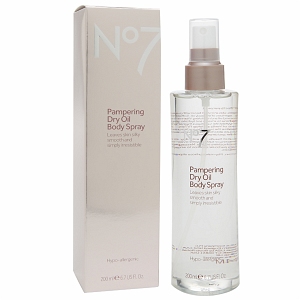 You should know by now if you are a regular to my blog, that I love Boots No. 7 products. My latest find is the Pampering Dry Oil Body Spray
.
At the beginning of summer I told you about Vaseline Spray and Go Moisturizer. The Boots No. 7 Pampering Dry Oil Body Spray is very similar to the Vaseline because it dries quickly and doesn't leave your skin oily. I like the Vaseline because it is an aerosol spray. However, the bottle doesn't last that long on me before it runs out. They are both around the same price, but the Boots No. 7 I would guess will last me at least 4 times longer than the Vaseline. This is just a guess. I just know I have been using the Boots for about a month and have barely used any – whereas before I don't think the Vaseline would last even a month.
From Boots:
Gives skin an instant boost with just a few spritzes of this body oil. Softening Almond oil and nourishing Vitamin E combine to smooth and hydrate your skin with the sumptuous fragrance notes of Vanilla and White Florals. This luxurious formula absorbs instantly to leave skin supple and simply irresistible.
I now really prefer using a dry oil spray on my arms and legs as opposed to a lotion. I'll let you know once I get the really dry winter skin if it still holds up!