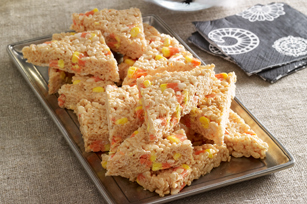 I quadruple love this time of year! So excited for Halloween and the fall season. Here is a yummy recipe from Kraft that incorporates candy corn into rice krispie treats for a fun Halloween treat!
Candy Corn Marshmallow Rice Krispie Treats
1/4 cup  butter
6 cups  JET-PUFFED Miniature Marshmallows
12 drops  yellow food coloring
4 drops  red food coloring
6 cups  KELLOGG'S® RICE KRISPIES® cereal
2 cups  candy corn
MICROWAVE butter in large microwaveable bowl on HIGH 45 sec. or until melted. Add marshmallows; toss to coat. Microwave 1-1/2 min. or until marshmallows are completely melted and mixture is well blended, stirring in food colorings after 45 sec.
ADD cereal and candy corn; mix well. Press onto bottom of 13×9-inch pan sprayed with cooking spray.
COOL completely before cutting into 12 bars. Cut each bar diagonally in half.