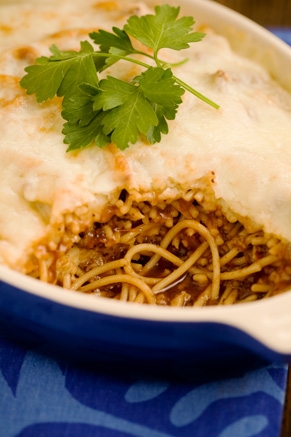 I know we are all getting so busy this time of year, so before I start with all my usual holiday recipes, I thought i would share this delicious, easy recipe from Paula Deen.
Walk Away Baked Spaghetti
Servings: 4-6
Prep Time: 15 min
Cook Time: 20 min
Difficulty: Easy
1 lb browned and seasoned ground Beef (Italian sausage can be substituted)
3/4 lb.spaghetti, cooked
1 jar (approx 15 oz) of your favorite pasta sauce
2 cups Mozzarella Cheese, grated
Preheat oven to 350 degrees.
In a large sauce pan, simmer meat and tomato sauce together. Toss the cooked noodles in the sauce.
To Assemble: Spray a casserole dish with non stick cooking spray. Spoon half of the noodle mixture into the dish. Pack it down lightly and sprinkle on half of the cheese. Add the other half of the spaghetti, pack down lightly and top with the rest of the cheese. Bake for approximately 15-20 minutes or until the cheese is bubbly. Serve with a green salad and crusty garlic bread.