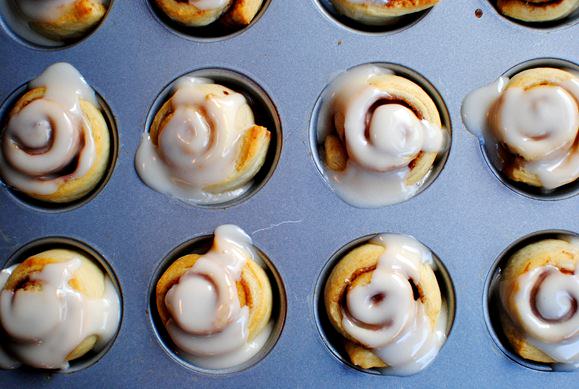 I made this yummy recipe for several years now to have over the Christmas holidays and it is always a hit. So easy! I actually double it because it is so easy to eat more than a couple without even thinking!
Mini Cinnamon Rolls with Maple Icing*
Makes 16 mini cinnamon rolls
Ingredients:
1-8oz tube crescent roll dough 2 Tablespoons butter cinnamon brown sugar
For the maple icing:
1 teaspoon maple syrup 1 Tablespoon skim milk 3/4 cup powdered sugar
Directions:
1. Preheat oven according to crescent roll dough package directions. Layout half the dough (4 triangles) and pinch all the seams together. Flip over and pinch the seams on the back side together too.
2. Using a rolling pin, smooth the seams and roll the dough into a square about 1/4″ thick. Brush with half the butter, and sprinkle with as much cinnamon and brown sugar as you want. Roll into a log and cut into 8 pieces.
3. Place mini cinnamon rolls into a non-stick sprayed mini muffin tin. Repeat steps 1 and 2 with the other half of the crescent roll dough. Bake according to package directions.
4. Meanwhile whisk together maple syrup and milk in a bowl. Add in powdered sugar until desired consistency is reached. Drizzle over warm cinnamon rolls.
*I made the maple icing and it was delish, but you could also use a cream cheese icing.  Here is a basic cream cheese icing recipe:
4 ounces cream cheese, room temperature
1 cup powdered sugar
1/4 cup (1/2 stick) unsalted butter, room temperature
1/2 teaspoon vanilla extract
Cinnamon roll recipe and photo from iowagirleats.com.