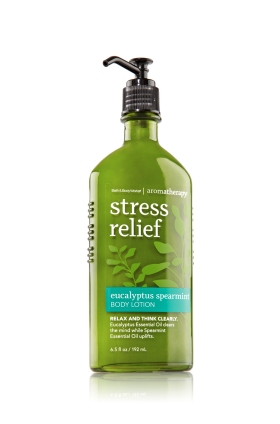 Are you getting a little stressed out with the shopping and wrapping and baking? What about the relatives? No matter what may be causing you tension, I have the solution. It's better than Calgone.  Trust me.
Bath and Body Works Stress Relief lotion is my favorite. I put it on my shoulders and it instantly releases those tense muscles. I keep this at home and at the office. If you have stiff muscles, or a killer headache, this is the solution. Bath and Body Works Stress Relief is part of the aromatherapy line. They also have Energy, Sleep, and Sensuality. I have blogged before about my love of the Sleep Pillow Mist.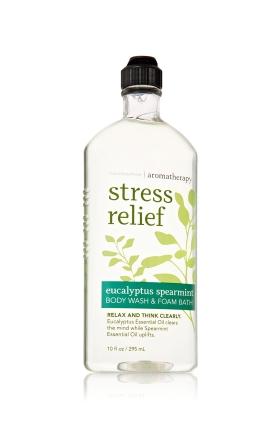 They also have a body wash, which I keep in my shower, and use only on my shoulders. My shoulders always have tension. I think it's more from the computer usage than actual stress. But don't kid yourself, I get stressed out too! I have my moments. I'm not always this peaceful zen person you think I am.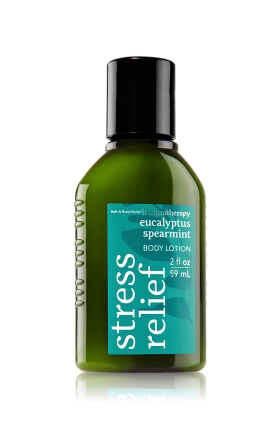 And if you are going away for the holidays, pick up the travel size!
It's a great lotion too. But that's not why we buy it, is it?  It contains Eucalyptus essential oil to clear the mind while Spearmint Essential Oil uplifts to help improve concentration.
If you are visiting a relative this year, this would make a great hostess gift! That and a big ol' bottle of booze! Merry Christmas!!!
The Stress Relief line also comes in body scrub, body butter, shampoo, bath soak, and more. You name it and Bath and Body will have this for you.