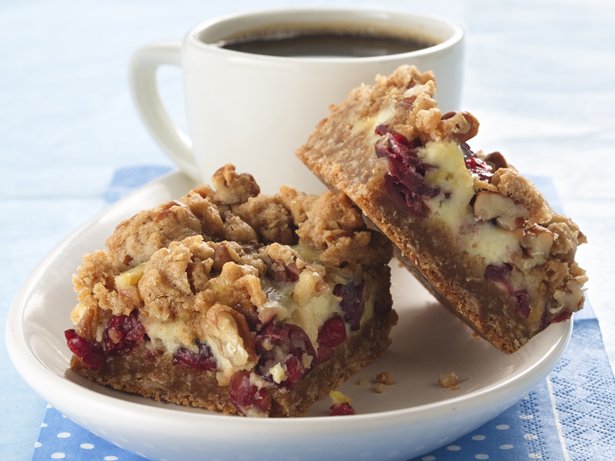 Doesn't that picture just make your want to get to the kitchen and whip up a batch? Here's a great recipe from Betty Crocker.
Oatmeal-Cranberry-Sour Cream Bars
1 pouch (1 lb 1.5 oz) Betty Crocker® oatmeal cookie mix
1/4 teaspoon ground cinnamon
1/2 cup butter or margarine, softened
1 egg
3/4 cup sour cream
3 tablespoons sugar
2 teaspoons grated lemon peel
1/4 teaspoon vanilla
1 egg yolk
1 cup dried cranberries
1/2 cup coarsely chopped pecans
Heat oven to 350°F. Line 9-inch square pan with foil, leaving 1 inch of foil extending up over sides of pan. Spray foil-lined pan with cooking spray.
In large bowl, stir cookie mix, cinnamon, butter and egg until stiff dough forms. Reserve 1/4 of the dough. Press remaining dough in bottom of foil-lined pan. Bake 15 minutes.
In small bowl, stir sour cream, sugar, lemon peel, vanilla and egg yolk until well blended. Stir in cranberries. Spread over crust. Stir pecans into reserved oatmeal dough; crumble over cranberry mixture.
Bake 18 to 20 minutes or until top is light brown. Cool 30 minutes. Refrigerate 2 hours. For bars, cut into 4 rows by 4 rows. Store covered in refrigerator.
EXPERT TIPS
 Lining the baking pan with foil eliminates sticking and makes for easy cleanup.