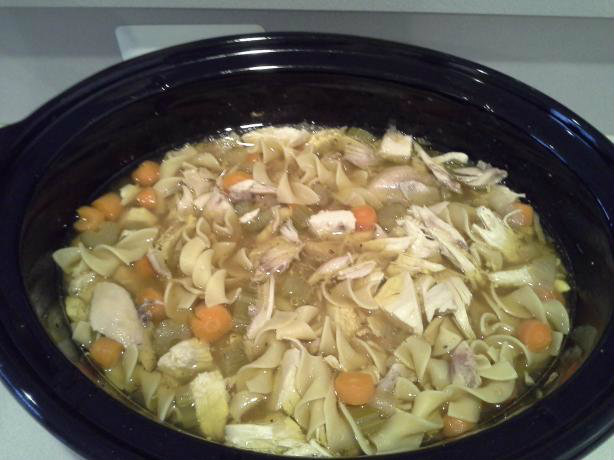 When it's cold and dreary, I go for comfort foods. Nothing is better when you are sick, or just sick of winter, than having a nice bowl of chicken noodle soup! Here is an easy recipe to make in your crock pot, and so much more delish than any can of soup.
Crock Pot Chicken Noodle Soup (food.com)
8 cups water or 8 cups canned chicken broth
1 cup carrot, cut into ¼ inch slices
1 cup celery, cut into ¼ inch slices
1 cup onion, chopped
1 garlic clove, minced
2 bay leaves
½ teaspoon dried thyme
4 teaspoons salt (to taste)
½ teaspoon fresh ground black pepper, to taste
1 (3 ½ lb.) roasting chickens
3 cups wide egg noodles, uncooked
In 4 ½ to 6-quart slow-cooker bowl, combine water, carrots, celery, onion, garlic, bay leaves, thyme, 4 t salt, ½ t pepper.
Place whole chicken on top of vegetables.
Cover slow cooker with lid and cook as manufacturer directs on low setting 8 to 10 hours or on high 4-5 hours.
Transfer chicken to cutting board. Discard bay leaves. Add noodles to slow-cooker; cover with lid and cook (on low or high) 20 minutes.
While noodles cook, remove and discard skin, fat and bones from chicken; shred meat.
Skim fat from soup and discard. Return chicken to soup to serve.