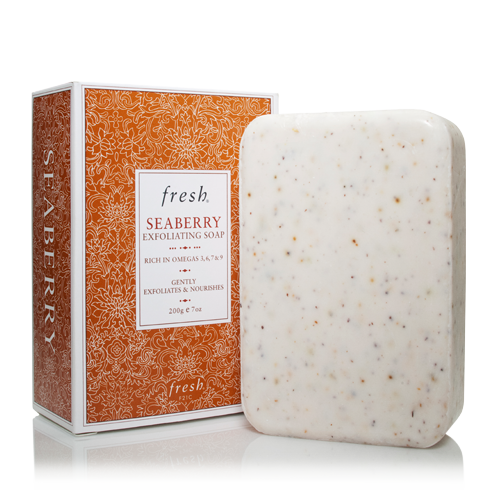 My friend Patti swears by this exfoliating soap. Patti says everyone comments on how younger her hands look since she started using it. And she has sent me pictures of her hands and I must admit they look fabulous. It's not just for hands of course, but I think only you see how soft and creamy the rest of your skin is.
The Fresh Seaberry Exfoliating Soap is available at Sephora or directly from Fresh.com. I am a huge Fresh fan, and have many of their products, although I do not have the soap. Yet. Because Patti goes on and on about it, and has wanted me to blog about it for quite some time, I plan to purchase next time I am at Sephora. But in these drying winter months, I felt I should share Patti's favorite beauty product with you so that your skin too can become soft and lovely and young looking!
The bar is $16.50, which seems awfully expensive for a bar of soap. Patti requested it from everyone for Christmas so I think she's stocked up for the year!
From Fresh:
Fresh Seaberry Exfoliating Soap gently buffs away dry skin while cleansing the body to soften and smooth the skin, revealing a radiant glow. The nourishing formula is fortified with seaberry oil, rich in omegas 3, 6, 7&9, and is triple-milled to last longer. It produces a rich, non-drying lather for a luxurious cleansing experience.

Seaberry oil, also known as seabuckthorn oil, is powerful antioxidant rich in omegas 3, 6, 7 & 9 that restores and softens the skin.

Natural exfoliants of cranberry, bamboo, and bitter orange gently buff away dry skin.