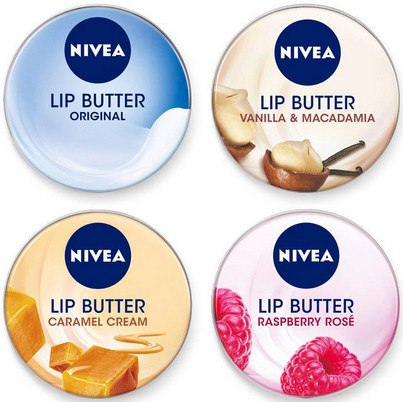 I am one of those girls that has to constantly have something on my lippies. You may know that I am crazy for Nivea Lip Balm and Maybelline Baby Lips. I'm now adding Nivea Lip Butter to my repertoire of lip softening products. I have purchased the original, and it works great. Almost worth sticking my finger in a tin to spread the lip butter over my lips. I must confess that I really, REALLY prefer the lip balm tubes. However, I think for the extra softening lips you get from using the lip butter it's worth it. It is very creamy and soft. Contains shea butter and almond oil to moisturize and sooth your dry lips.
I just slop it on before bedtime, along with my cuticle cream, hand cream, feet cream, etc. Oh yes, I am really hot stuff come bedtime. Anyway, I get all coated up at night so I've just added this to the routine and wake up with very soft lips. This time of year, you really need that extra help, and I'm not even in a cold climate like some of you! I get my hand gloves and my socks on, and turn on the humidifier, and hope that I'm not all scaly and dry the next morning.
Let me know what you do to stay soft in the winter.