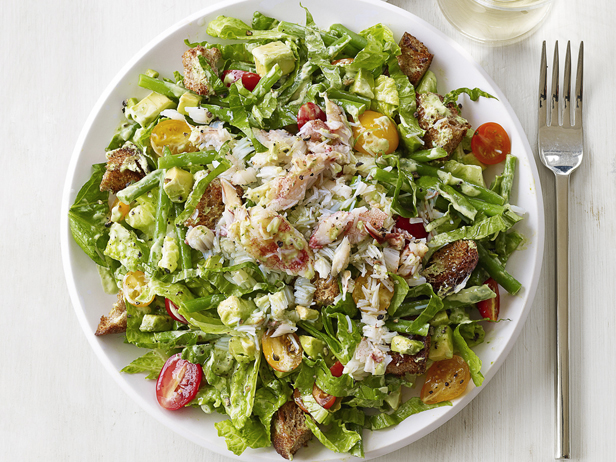 I've got some great soup recipes lined up for this month, but since we are also all starting our 2014 diets, here's a healthy Crab and Avocado Salad I found on the Food Network.
Crab and Avocado Salad
Kosher salt
½ lb. green beans, halved
⅔ cup low-fat plain yogurt
3 tablespoons low-fat mayonnaise
1 to 2 tablespoons fresh lemon juice
½ cup chopped fresh chives
¼ cup chopped fresh basil
3 anchovy fillets, chopped
Freshly ground pepper
½  pound lump or claw crabmeat
1 Hass avocado, halved, pitted and diced
3 romaine hearts, chopped
1 ½ cups whole-wheat croutons
1 pint cherry tomatoes, halved
Bring a saucepan of salted water to a boil. Add the green beans and cook until crisp-tender, 3 to 5 minutes. Drain and run under cold water to stop the cooking.
Puree the yogurt, mayonnaise, lemon juice, chives, basil and anchovies in a blender until smooth. Season with salt and pepper.
Toss the crabmeat, half of the avocado and about 1 tablespoon of the yogurt dressing in a small bowl. Toss the romaine, croutons, green beans and the remaining avocado with the remaining dressing in a large bowl.
Divide the romaine salad among plates, top with the tomatoes and place some of the crab mixture in the center.
Per serving: Calories 314; Fat 14 g (Saturated 2 g); Cholesterol 73 mg; Sodium 552 mg; Carbohydrate 28 g; Fiber 8 g; Protein 22 g