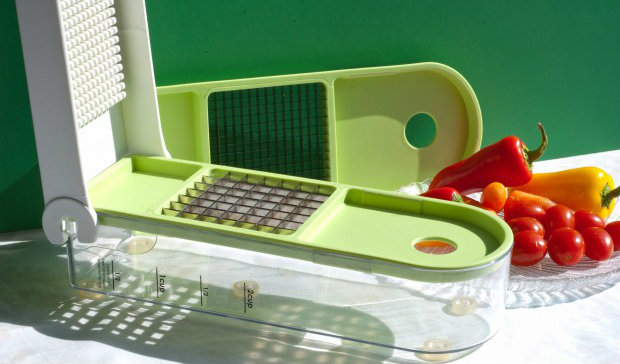 Over the Thanksgiving holiday, my sister-in-law was kind enough to be my sous chef in the preparation of the meal. Little did she know that I really pretty much put her in charge of everything. I'm sneaky like that. In addition to working her like a dog and preparing, I mean assisting me in all of my dishes, I asked her to make my Mom's famous veggie bars. She brought all the ingredients to make the veggie bars, along with her Vidalia Chop Wizard. I'd seen it on TV before, but always thought my little electric chopper would do a better job. Oh oh contraire mon frère. She was chopping up the veggies in no time. And unlike my electric chopper, the veggies didn't get watery, like they tend to do in my electric chopper. So, needless to say I was sold and asked for one for Christmas.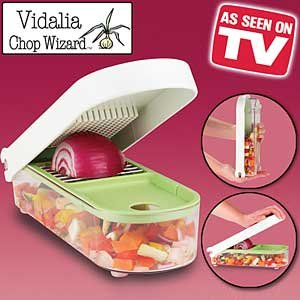 I finally remembered to use it over the weekend and let me tell you, I am in love. I was making Patti's Taco Salad, and got the chopper out. My husband didn't think it would work by cutting an onion into four quarters and putting in the chopper. But it did. In no time. And I didn't even cry.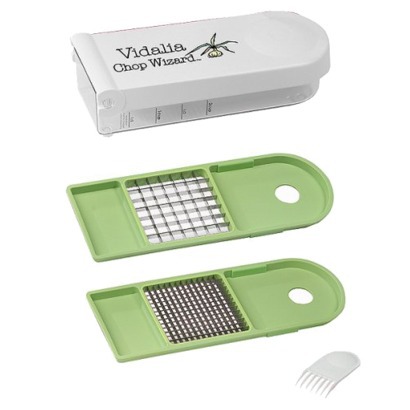 It comes with two different sized blades for chopping. One quick motion to close the lid over the blade and the container holds your magically chopped item. The little pick helps to clean out whatever is left in the blade before you stick in the dishwasher and clean. All parts dishwasher safe. That's always a plus for me.
From Vidalia Chop Wizard:
Chop vegetables, fruit, cheese, and more in half the time
Handy gadget chops and dices veggies with one swift motion
Includes 2 super sharp insert discs for perfect chopping and dicing every time
Catch container doubles as a measuring cup with marks from 1/2 cup up to 2 cups
Includes handy lid cleaning tool; dishwasher safe
This is now my favorite kitchen gadget. So pick one up for yourself, and buy as a gift for the cook on your gift list! It's under $20, and you can find at most superstores, or amazon.com.