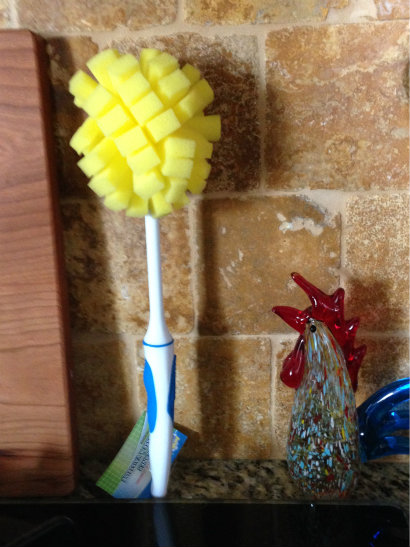 Here is an example of how sad and boring my life is. See that bottle sponge brush? I found it at the Dollar Tree last week. You know, where everything is a dollar? So I stocked up. This may seem insignificant to you, but stick with me folks.
These things used to be in every supermarket anytime you needed them. I can't remember if it was my mother or my hairdresser who first introduced me to these babies, but stick with me. They are not for the intended purpose you think they are.
My hairdresser uses this brush to wipe off all the hairs from my neck and clothes when I get a haircut. My mom showed me how to use it to get all the lint off my clothes. I started giving them to everyone. Best lint brush EVAH. Easy to clean. Always inexpensive. Never let me down.
Then my BFF Patti called in a panic because her dog ate hers and she couldn't find them and wanted to know where I got them. Well, sadly, sometime between the time I discovered them eons ago and now, the antibacterial gods descended and thought these nasty things weren't good for cleaning baby bottles, which were their intended purpose. So. They. Stopped. Making. Them. And I couldn't find them. And I asked my hairdresser, and she said the same thing. She couldn't find them anymore.
So the clouds parted and the angels sang last week when I discovered these darling lint brushes at the Dollar Tree. Hip-Hip-Hooray!
Sooooo, if you see these sponge brushes, a/k/a lint brushes in your supermarket, dollar store, or anywhere else you are, grab one. You will thank me later!