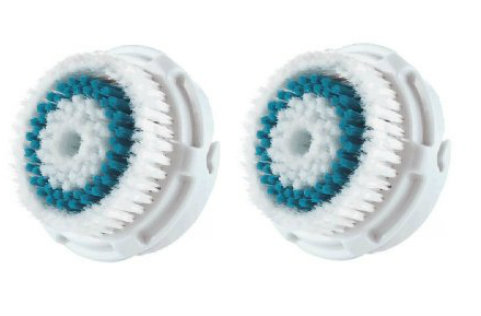 I am crazy about my Clarisonic Mia. So much so that I now have two! One for my face, and one for the shower, that I use with a deep pore brush head on my décolletage, and arms, to do a little extra exfoliation.
While I am crazy about the Clarisonic, I am not so crazy about the cost of replacement brush heads. For a long time I was able to purchase replacement heads through my esthetician for $5 each! But once I really got into all my own skin care, and my DIY concoctions, I just didn't feel the need to drop $100 a month for a facial.
I had to find another way to find replacement brush heads without paying $25 a pop for them. For over a year now, I have been purchasing my replacement brush heads through ebay.com. I won't recommend an individual seller but my best advice is to be sure they are "NEW" brushes, and that the seller is top rated. Read the seller feedback to make sure their good reputation is related to selling Clarisonic replacement brush heads. The last time I purchased replacement heads, I got two for $8.90. EIGHT DOLLARS AND NINETY CENTS, people.  No shipping. No tax. Can you see me doing the happy dance?
So, if you haven't replaced your brush heads recently there is no excuse now because you can find great replacement brush heads on Ebay. And they make great gifts, because you spend under $10 and your friend thinks you dropped $50 on her for two replacement brush heads!
You're welcome.