Previously, I blogged about the Map My Run app that my friend Debbie uses and loves. Today I'm going to tell you about an app that my friend Sally likes better. They are both free, so feel free to try both of them out and let me know which one you prefer! They are both great for using your smartphone GPS to track your exercise and give you distance, calories burned, and more. What's most important really is that you are up and doing some sort of physical activity no matter what your age!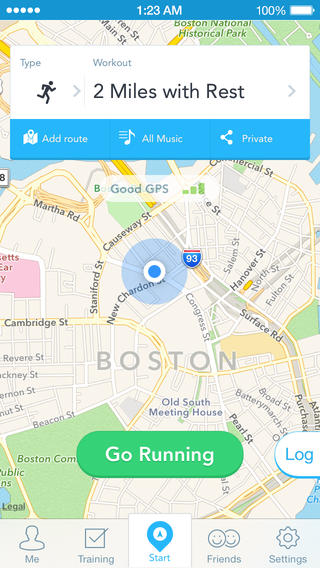 From the developer:
Track your runs, walks, bike rides, hikes, and more using the GPS in your iPhone.

Track your fitness activities and have fun doing it
– See detailed stats around your pace, distance, and time.
– Get stats, progress, and coaching through your headphones with built-in audio cues.
– Listen and control your music while you work out.
– Measure your heart rate with many available sensors.
– Take pictures along the way to share and save while you go.


Measure your performance over time
– View a detailed history of your activities to see how you are doing.
– Get notified when you hit new personal bests and milestones.
– Measure your progress against your goals and targets.
– Follow detailed plans to help you achieve specific fitness objectives.
– Turn any activity into a route to do again later.


Share with friends
– Post your activities, achievements and plans to Facebook, Twitter and your friends on RunKeeper.com.
– Let supporters watch LIVE maps of your workouts and races as you go (must subscribe to RunKeeper Elite).


Get a broader picture of your health at RunKeeper.com
– Integrate your activity data with more than 70 other apps and services including MyFitnessPal, Lose It, Fitbit, Withings, Garmin and many more, to get deeper insight into your overall health.

Note: Continued use of GPS running in the background can dramatically decrease battery life.