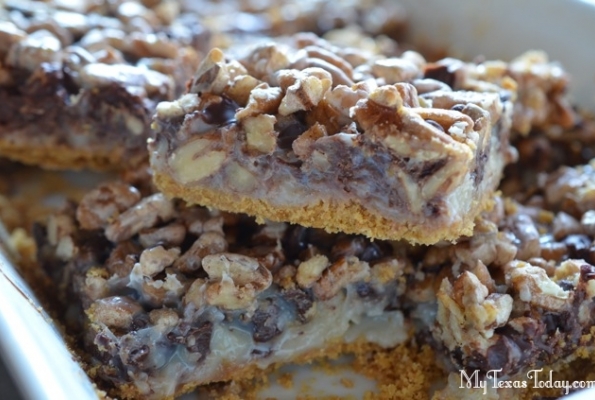 MMMMMMMMMM – doesn't that look yummy.  Today I'm sharing a great recipe from one of my favorite sites for good Texas recipes – mytexastoday.com.  Enjoy!
Hello Dolly Bars
1 stick butter
1 cup of Graham cracker crumbs
1 cup shredded coconut
1 cup semi-sweet chocolate chips
1 cup chopped pecans
1 14 oz. can Sweetened Condensed Milk
Preheat oven to 350 degrees.
Melt butter in an 8 x 8 baking dish or 9 x 13 if doubling recipe.
Remove dish and brush melted butter around sides of dish.
First layer – spread Graham cracker crumbs evenly over melted butter.
Next layer – shredded coconut over graham cracker crumbs.
Next layer – chocolate chips over coconut.
Next layer – chopped nuts over chocolate chips.
Top with condensed milk as final layer.
Bake for 30 minutes.
Remove from oven and let cool COMPLETELY ( at least an hour, preferably longer) before cutting into squares
Best if served cold.