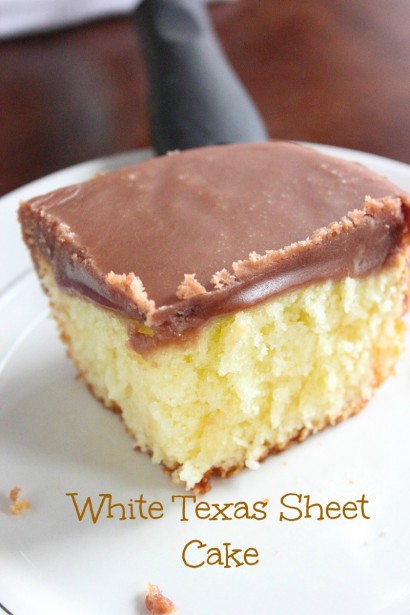 It's birthday time around The Average Consumer's house, and I tried a great new recipe from tastykitchen.com, for my beloved's birthday. It was a hit. Diet be damned! After typing up this recipe, I realized I have never shared my Texas Sheet Cake recipe with you before, so I've got it calendared. If you have never had Texas Sheet cake, child, you haven't lived. White Texas Sheet Cake is just as good!
White Texas Sheet Cake
FOR THE CAKE:
1 cup Butter, Cubed
1 cup Water
2 cups Flour
2 cups Sugar
2 whole Eggs, Beaten
½ cups Sour Cream
1 teaspoon Salt
1 teaspoon Baking Powder
1 teaspoon Almond Extract
¼ teaspoons Baking Soda
FOR THE FROSTING:
1 cup Sugar
½ cups Unsweetened Cocoa, Sifted
½ cups Milk
4 Tablespoons Butter
2 Tablespoons Light Corn Syrup
4 cups Powdered Sugar, Sifted
2 teaspoons Vanilla Extract
Preheat oven to 350 F. Grease or spray a 9X13 rectangular baking dish and set aside.
In a small saucepan over medium heat, add the water and bring to slight boil. Once the milk has been brought to a boil, add the cubed butter. Stir with a rubber spatula until butter has completely melted. Then remove pan from heat and set aside.
In a large bowl, add the flour, sugar and eggs and mix to combine. Then slowly pour in the warm milk liquid while beating the mixture. Make sure you pour it in very slowly so the eggs don't turn into scrambled eggs. Once the milk has been added, the mixture should be smooth. Then add the sour cream, salt, baking powder, almond extract, and baking soda.
Once the mixture is well blended pour it into the baking dish and smooth the top. Place pan in the oven. Bake for 30 minutes, but start the frosting about 20 minutes in.
For the frosting: In a large saucepan on medium high heat, whisk together the sugar and cocoa powder. Then whisk in the milk, butter, and corn syrup. Continue to stir until all ingredients are well blended. Remove pan from heat. Slowly add in the powdered sugar one cup at a time stirring after each addition. Once all the powdered sugar is added, add the vanilla extract and mix to combine.
As soon as the cake comes out of the oven, pour the frosting on top. Allow the cake to cool and the frosting to completely set before serving.